Gigabyte Designare EX is back at CES 2018
Author:

Dennis Garcia
Published:
Tuesday, January 23, 2018

Introduction
For those of you who remember the X99 and the power and thermal performance of the Haswell-E you will have undoubtedly heard of the Gigabyte Designare EX. If not, then shame on you because that motherboard is one of those fabled genesis boards that changes things. After the board launched just about everything after it followed the same color scheme and design elements covering the I/O, audio chip and heatsinks.
At CES 2018 Gigabyte was showing a wide range of motherboards from the X299 Designare EX to a next generation Ryzen motherboard. A board designed for Cryptomining and even a specialized board for the Core i7 7740X Kaby Lake with dual channel memory.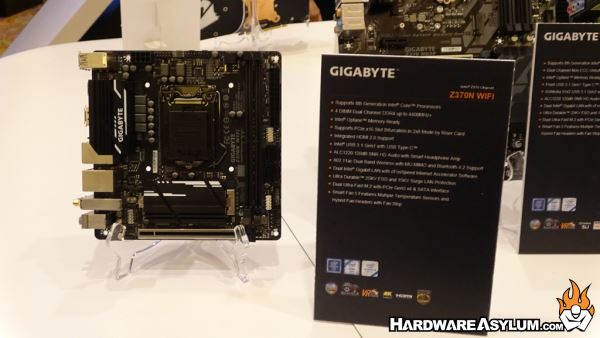 I was also impressed to see a Z370N Wifi on display marking the "only" Mini ITX motherboard I found sporting the new 300 series chipset.
Of course there were a wide variety of custom builds on display and for that I urge you to check out the CES 2018 YouTube video with a rather large section dedicated to Gigabyte and Aorus.