New 30 LED Digital Halos Fan Rings from Phanteks at CES 2018
Author:

Dennis Garcia
Published:
Sunday, January 21, 2018

Introduction
Phanteks had a number of good products on display that all handle different aspects of the PC industry. The first of these is an enhancement to an existing Phanteks product the Power Combo. Power Combo is an interesting device that allows you to combine the power delivery of two power supplies to a single system.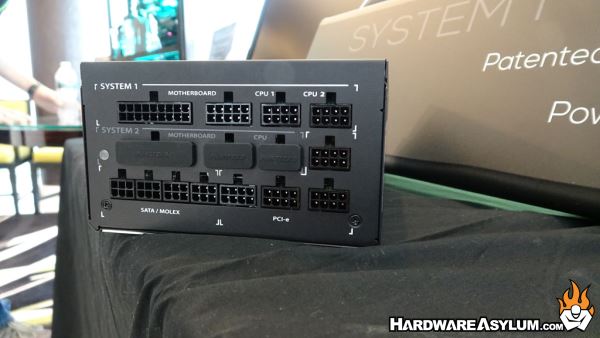 This is a great way to extend the life of a power supply or to upgrade an existing system that has been upgraded. Of course a real world example is the cryptocurrency market to support more video cards but it could be used in overclocking to support 4-way GPU setups. The power supplies on display offered two sides to the power combo dilemma. One allowed you to link power supplies together while another allowed you to run two systems from a single PSU with shared cables for accessories.
The sky is the limit if you can run dual systems from a single PSU and at 80+ platinum ratings it will be efficient too.
The highlight of the Phanteks suite was both the new digital Halos light rings and their new pump reservoir. The R160 and R220 reservoirs are rectangular in shape, can be mounted in any position and feature a built in heatsink. You can also install a DDC pump and link the product into your existing RGB LED color system.
RGB LEDs are a big part of the enthusiast PC market and while companies are releasing new lighted fans every day there is a good majority of us who prefer a certain type of fan or a very particular in how that fan is controlled. Well, with the Phanteks Halos you can now add RGB lighting to those fans and have the new 30 LED rings digitally controlled for even more LED effects.
Seriously the sky is the limit.