Aorus Gaming Monitor with Noise Canceling
Author:

Dennis Garcia
Published:
Monday, January 14, 2019

Introduction
For years Gigabyte has been one of my favorite destinations during trade shows and while at Computex they launched their line of gaming memory modules this year they cranked things up and have one of the best monitor implementations I have ever seen.
This is the Aorus AD27QD Tactical display. It is a 27inch gaming monitor with a 144Hz IPS display and maybe one of the most robust OSDs I have ever seen.
Across the back is the customary RGB lighting effects with a handy carry handle. The monitor supports all of the major articulations and will actually stay in a preset vertical instead of popping up to the top like so many others on the market.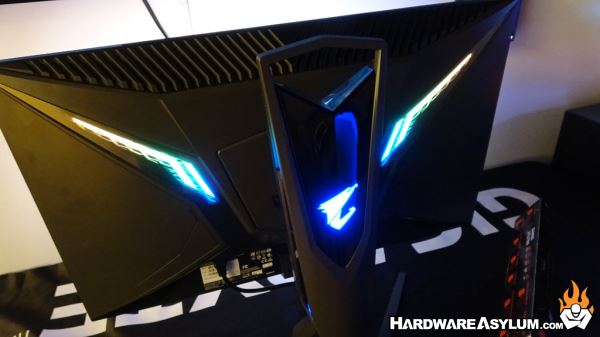 So what makes this monitor really unique is that it features a built in noise cancelation that is isolated to background noises but will not impact voice. The demonstration was a streamer (a rude one at that) with a noisy mechanical keyboard playing loud music in the background. However what was being broadcast was just the game and what the streamer was saying.
This works due to a series of microphones in the panel that will detect the background noise and remove it from the audio stream. Pretty slick and doesn't require any software to be installed in the PC, it all works in the monitor.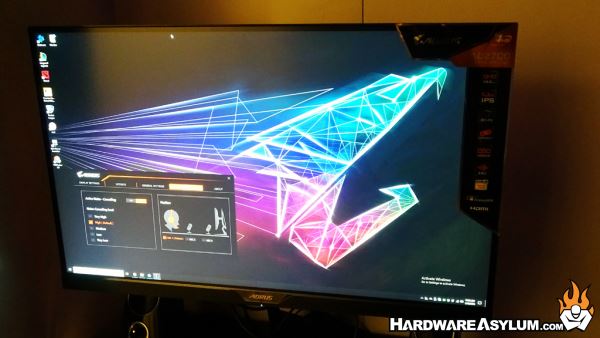 The AD27QD is also a Tactical Monitor and will overlay helpful things across your game screen. If your game doesn't allow for a crosshair you can draw one using the OSD and it will be rendered on the monitor after the picture has left the game.
Eg not flagged in the game as a cheat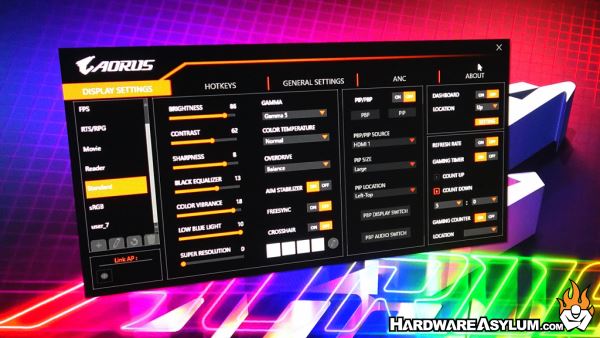 You can show other system specs like temp and FPS all of which are rendered on the monitor and not using software from the PC.
Of course Gigabyte had other items on display including their memory modules, 1TB SSD, Video cards and the Aorus Z390 Xtreme Waterforce. This is a rare one with ALL the bells, whistles and waterblocks
Speaking of watercooling check out the Slushii mod on display with a real Slushy cup as a res.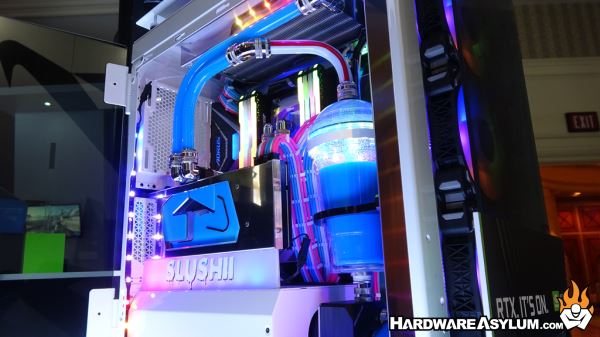 The guys from ModMyMods built this one, be sure to check out their store.