Computex 2014 Gigabyte Suite Visit
Author:

Dennis Garcia
Published:
Tuesday, June 03, 2014

Introduction
Gigabyte is showing a variety of new products at Computex this year. The majority of them are on the motherboard side with their flagship 9-series motherboards. Of course, Gigabyte is still committed to helping overclockers get the most from their hardware and are doing so with the new line of "orange" SOC motherboards. (Super Overclock) The boards come in two variations, SOC and SOC-Force with the "Force" edition being configured for 4-way SLI and multi graphics performance.
One SOC board that wasn't on display is the limited edition SOC LN2 edition that basically has no provisions for aircooling and is designed specifically for memory overclocking. We will have more on that motherboard at a later time.
The gaming motherboard lineup has changed considerably with an entire lineup of motherboards to fill every segment of the market. It was explained to us that gaming is now being treated like how the UD (Ultra Durable) motherboards did in the past.
Like before the gaming motherboards come equipped with high-quality audio and Killer Networks E2200 controllers. The segments are divided to allow gamers to pick the motherboard that is right for them and at a price point they can afford.
Of course, the biggest difference is the color. Gone are the green boards which have now been replaced with red and using the Gigabyte "eye" logo from the video card division.
Gigabyte Black Edition
Asus has their black edition motherboards and they are often final revisions of an extremely popular motherboard that is being re-released for a new processor, Gigabyte isn't doing that. Instead the Black Edition motherboard is a stress tested motherboard that comes with a component guarantee against failure and 5 year warranty.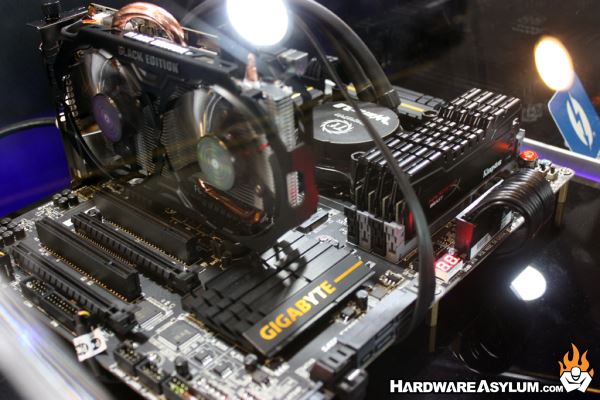 Each "BK" Black Edition motherboard is stress tested in their own testing lab for 168 hours and the boards that make it out of the testing chamber are certified by the supervising engineer and make it into the Black Edition program.