ASUS TUF Gaming Alliance Realized at Computex 2018
Author:

Dennis Garcia
Published:
Sunday, June 10, 2018

Introduction
One of the overriding themes of Computex 2018 was connectivity. There were IoT devices, AIoT and just about everyone who had a series of RGB enabled products were showing ways to synchronize the lighting effects across their entire product line. RGB is easy, the company controls the products and can outline directives. What is difficult is getting an entire industry to back a marketing direction and actually have something turn out as expected.
ASUS TUF Gaming Alliance is the result of Asus launching a brand and allowing vendors get behind the directive and release a series of branded solutions. The day before Computex I was invited out to the ASUS HQ to attend a sneak peek into what ASUS was going to show during Computex. Along with a rather exciting overclocked mobile device designed for gaming there was a showcase explaining what ASUS TUF Gaming was all about.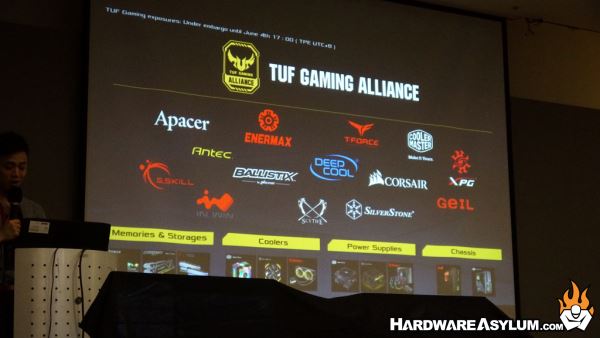 Not to bore anyone with the particulars TUF Gaming is a low end gaming brand designed for gamers on a budget. Let's face gaming branded products have fallen from an elite halo product to a mainstream product line with the cheapest product being the one that usually sells. Where ROG is the top end TUF is the opposite. That isn't to say TUF is bad, just inexpensive.
You wouldn't know it based on the motherboard PCBs but they really are trimmed down when it comes to the included components.
With the promise that these products will sell ASUS opened up the marketing to their partners allowing them to release products under the TUF brand and graphics. In doing these vendors get free marketing via the TUF Gaming Alliance and something recognizable by gamers when buying additional gear for their TUF Series motherboard.
The list of vendors is vast and every time I talked with one about their TUF gear they explained how they worked with ASUS to get the products approved and to make sure the graphics matched.
There were also things like ROG headphones and two gaming laptops designed for the two major gaming segments including MOBA and FPS. I'm all for a nice gaming anything but I have a hard time convincing myself that gaming on a laptop is a good idea. It can be done and done extremely well but it just seems wrong.
ASUS has always done extremely well with their marketing messages and the TUF Gaming Alliance is one of the most powerful I have seen in a long time. Not only is it attacking the mainstream market directly but is bringing vendors along with supporting products that would have otherwise been passed over.