RGB Power Leads from LianLi at Computex 2018
Author:

Dennis Garcia
Published:
Monday, June 11, 2018

Introduction
Trade shows are an intereseting thing where you can walk around all day, or all week, and still miss stuff. I wasn't able to see LianLi until day two of Computex and honestly might not have stopped by had not someone sent me an article talking about how cables are now RGB!
This got me thinking that maybe they are an EL wire extension or somehow had a clear insulator over the wires. As it would turn out it was even more basic than that, and quite ingenious too.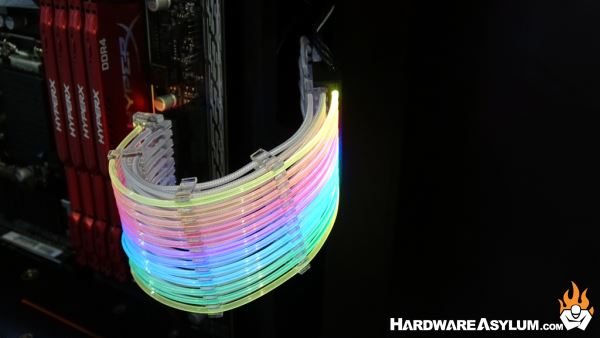 As the photo shows these are clip on covers that when activated will shine RGB LED light down a optic cable that resembles the wires going to your 24-pin and 8-pin PCIe power cables. It gives an amazing illusion from a distance and was a perfect draw to the LianLi booth.
Once there they showed me a few new case designs including the 011 Dynamic that featured tempered glass panels and some pretty amazing internals.
There is also an "Air" version that has more venting for higher cooling performance.