Noctua has Taken Aircooling to the Next Level at Computex 2018
Author:

Dennis Garcia
Published:
Monday, June 11, 2018

Introduction
Plenty of editors have praised Noctua for being brave enough to show new products at Computex that didn't feature RGB LEDs. Attacking how companies use RGB is a soft target of sorts and for Noctua to not include it really helped them stand out this year. Of course there is a "Not using RGB yet" in there someplace or maybe it is a "never". These things are so difficult understand at times.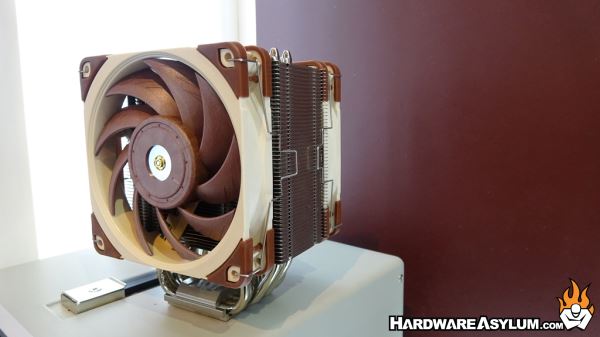 Noctua was showing off their next generation NH-U12 CPU cooler that is pretty amazing as it features 7 heatpipes and 37% more surface area than that HN-U12S and is cooled by two state-of-the-art NF-A12x25 120mm fans. This combination allows the NH-U12 to handle the same heat load as the NH-D14 which is typically regarded as one of the best aircoolers on the market.
The simulated heat demonstration proved this fact with all of the load and temperature data being available to see. They also negated the ambient temperature by placing both heatsinks in a common temperature chamber and had them running heat loads independently.