Phanteks Shows the New EVOLV X at Computex 2018
Author:

Dennis Garcia
Published:
Tuesday, June 12, 2018

Introduction
One of my favorite case designs is the EVOLV from Phanteks. It was one of the only cases I have ever given an Editor's Choice award for and despite what the Internet says it really is a good case. The interior is solid with locations for watercooling components, storage drives and average motherboards. Most complain that cooling is a huge problem with the EVOLV and several companies have started offering replacement panels to fix this issue.
Well, Phanteks announced a new version of the EVOLV called the EVOLV X and it is good!
First off, they addressed the cooling concern by adding more room between the front panel and the cooling fans. This will increase airflow into the case. To help with exhaust they have included larger vents across the top and changed how the top attaches to again increase cooling.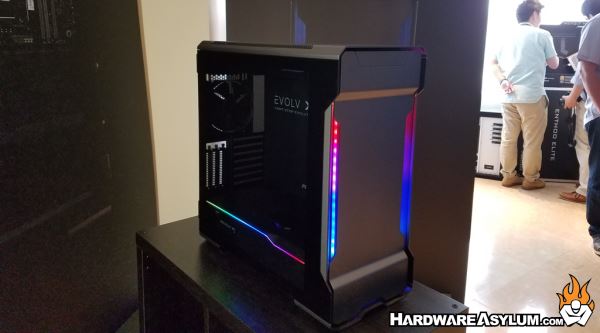 Inside the case they added RGB LED strips and strip support. Increased the motherboard tray size for EATX motherboards and added a vertical GPU bracket because, why not.
Some of the lesser known features is support for nine (9) SSDs on the back and six (6) 3.5" HDDs on the front in slightly redesigned drive trays. The panels that the SSDs attach to are also panels to cover your wiring which addresses one of the global complains about using tempered glass.
They have included a few revisions for watercooling support and even left enough room to support a full MiniITX motherboard at the top making the EVOLV X a true dual system chassis for streamers and content creators. Personally I think that is just an over the top addition designed to show off their dual system PSUs that we saw at CES.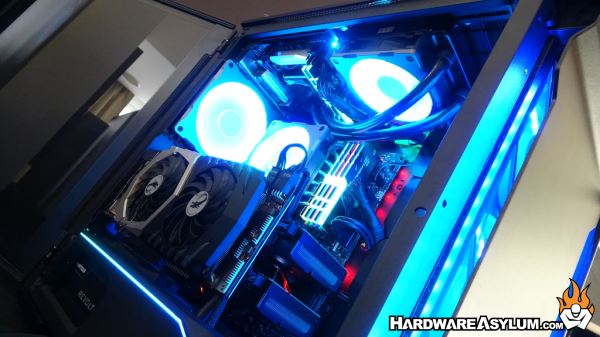 Overall I cannot wait to get my hands on the Phanteks EVOLV X, it is just too perfect!