Thermaltake Connected RGB Ecosystem at Computex 2018
Author:

Dennis Garcia
Published:
Sunday, June 10, 2018

Introduction
Getting connected is one of the many themes at Computex 2018 and Thermaltake is committed to bring all of their RGB enabled devices together to not only to be controlled from Thermaltake software but to also allow other lighting systems to interface as well.
A good example of this is at the RGB header. Some campaniles are using non-standard connectors to ensure they can only be used with approved devices however Thermaltake is opening up their RGB LED systems to use a standard 4-pin header allowing users a choice in how the lights are activated.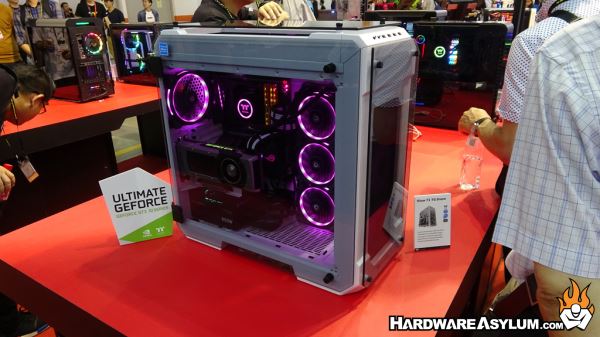 Some of the other booth highlights include new copper core radiators. These feature corrosion neutral copper with stainless steel frames to ensure strength and cost efficiency while also offering flexibility in water loop configurations.
Updated Riing fans that have tripled the number of LEDs making each light individually addressable and controllable by each lighting zone. Not to quote a Big Hero 6 scene but we have inside to outside and front to back.
At CES I got to see the new Level 20 and Thermaltake has now built out two smaller versions while also adding a few functional upgrades to fix several last minute issues. I can't wait to see this case on the market and how the modders will decide to configure their builds.