AMD Announces the Ryzen Zen 2 Architecture at Computex 2019
Author:

Dennis Garcia
Published:
Monday, May 27, 2019

Introduction
As many of my long time readers will know I have been coming to Computex for many years and seen a number of new technologies launch. I was here when PCI Express was announced and was around for a ton of motherboard launches and quite a few iterations of GPU from NVIDIA. However, in all those years of attending Computex I never once watched any of the opening ceremonies. They have always had them and I never felt compelled to attend.
When it as announced that AMD CEO Dr. Lisa Su would be speaking I made a point of clearing my calendar and decided to check it out. At first it was advertised as AMD would be speaking during the open ceremonies and later transformed into an official Keynote address from the AMD CEO.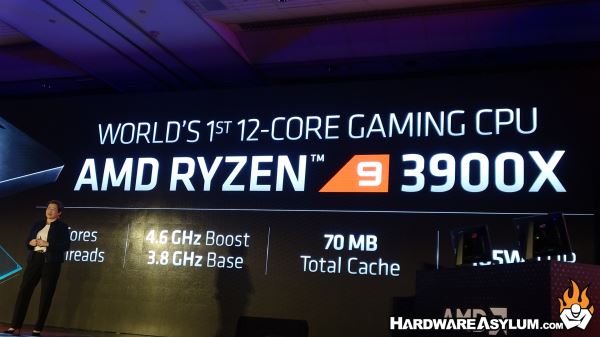 This is important because this was also the first ever Keynote for Computex. Thus transforming a simple sales oriented trade show into a international tech event similar to CES. With so much momentum I hope the organizers of Computex can keep it going!
During the Keynote Dr Lisa Su talked about the 50 year anniversary of AMD and how that company has pioneered with several industry firsts, and may of them I had forgotten about. For instance AMD was the first to release a 1Ghz processor (Athlon XP) and thus breaking the Ghz barrier. AMD was also the first to release a 64-Bit processor (Athlon 64) and they were the first to release a 32-core HEDT processor (Threadripper). In all of these instances Intel had to admit they had fallen behind and release an answer to the AMD threat. Sometimes that answer is very well thought out and other times it seemed more like a knee jerk.
Regardless, the one thing remains true is that competition is good for the industry.
Ryzen Zen 2 Architecture
When the first Ryzen was released I was lucky enough to get one of the launch packages and quickly determined that Ryzen, while awesome for multithreaded applications was not much faster than an Intel Core i5. Its power was the ability to quickly scale allowing AMD to throw more threads at the problem instead of making the pipeline faster. A fast pipeline is what Intel has always focused on and is why their processors are generally better at almost everything.
In one of our Podcast episodes I talked about Ryzen and how I felt it was a stepping off point in the Zen architecture and that AMD really needed to get something on the market. That would allow the engineers time to refine the design and Zen 2 is the result.
The processor offers 15% better performance in single instructions per clock, twice the cache size and twice the floating point performance. What better the processor is using the same AM4 socket! Of course with any new processor supporting new technology there will be a new motherboard however it appears that Zen 2 processors are all reverse compatible.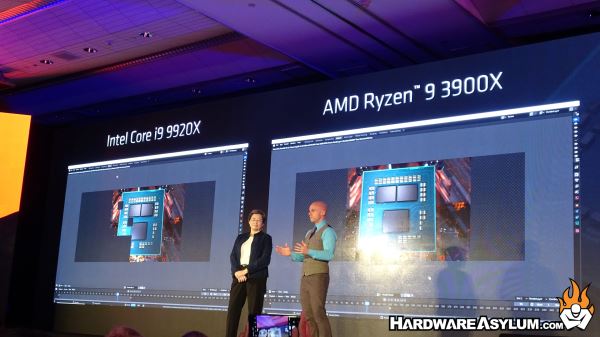 To help demonstrate Zen2 there were some very carefully selected CPU benchmarks that both showed off the single threaded performance and how collectively they improved the user experience. What was most impressive is the final benchmark where they matched up a Ryzen 3900X (their top of the line) against the Intel Core i9 9920X (A $1200 dollar CPU). This test matched the core count across the CPUs and as you would expect AMD won by a sizeable margin.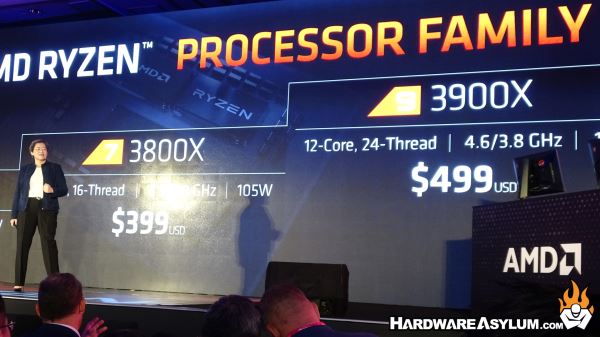 In keeping with AMD history you have to consider price. AMD hardware has ALWAYS been cheaper and is why we have AMD Fanbois and Fangurls. It also explains why AMD processors remain to be sold for years after they have been launched.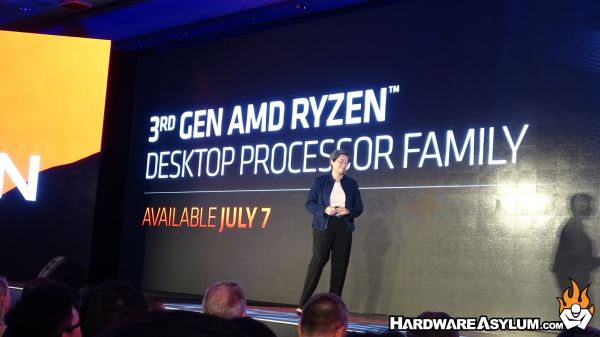 The price for the flagship Ryzen 3900X will be $499 making it the cheapest way to get 12 cores / 24 threads into a desktop gaming machine. Combine that with performance that is on par if not better than the Intel solution and I think there might be a good reason to recommend AMD again.
Of course the trifecta will be when it comes to overclocking and is what I am most interested in.
Look for the new processor in July 2019