In-Win Showing new 925 Aluminum Case at Computex
Author:

Dennis Garcia
Published:
Sunday, June 02, 2019

Introduction
When the In-Win 928 was launched in March it quickly became one of the most popular In-Win offerings. It had one problem though, it was designed as a super tower for the larger Dominus Extreme and really dwarfed the smaller and more practical motherboards that 98.3% of systems builders and enthusiasts use and buy today.
Because of this In-Win went back to the drawing board and tried to figure out how to make a more practical version of the 928 that was smaller and less costly to make. They came up with the 925.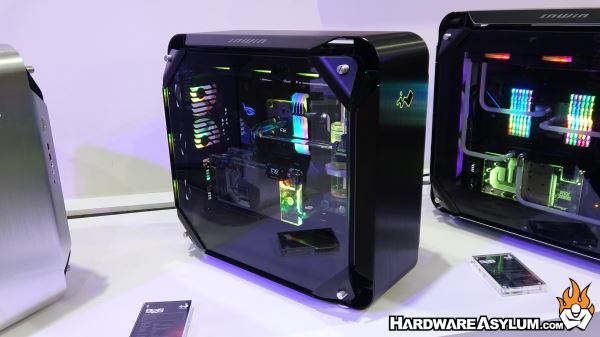 From the outside the 925 is virtually identical to the larger 928 with a few subtle changes like the diamond cut edges that dress up the 928. These have been skipped on the 925 making the case more affordable to make.
The case features a standard full tower design with vertical GPU support and plenty of water cooling options. The shell is a thick anodized aluminum with front panel controls located along the right and tempered glass covering both sides.
The insides are SECC steel and honestly the coolest part of the case since they offer an affordable modding opportunity. Cooling wise the case is basically an open air design similar to the S-Frame which really facilitates watercooling to ensure that your components remain cool.
One of the other designs on display was actually the In-Win signature case called Yong. Yong is a computer case concept that has no design other than an algorithm that is 3D printed each time the case is produced. The ABS plastic is printed in two parts to facilitate case construction and when fully assembled can create a very unique art installation that is hiding a full desktop computer.
Much like the fully case Z-Frame from 2018 the Yong is likely to be made in limited quantities given that it takes about 12 hours to fully print and even more time to finalize with paint and assembly.