Noctua shows Next Generation D-Type Cooler at Computex
Author:

Dennis Garcia
Published:
Tuesday, June 04, 2019

Introduction
Arguably one of the best aircoolers on the market is the NH-D14 and NH-D15. These are dual tower designs that not only support 140mm and 150mm fans but have twice the surface area for enhanced cooling and noise control. Being that dual tower designs tend to take up quite a bit of space they will simply not fit in certain cases or on certain motherboards.
The Noctua NH-D15 featured an offset design that moved the towers up and away from the nearby PCI Express slots and has allowed more room for taller memory modules. This really helped ensure that the cooler would fit in more systems but times are changing.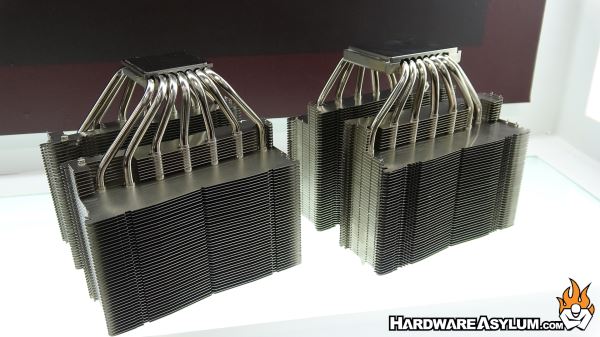 With this new next generation D-Type cooler Noctua has tweaked the design once again to better support modern motherboard designs and features even larger memory cut-outs.
The cooler itself is a 7-heatpipe design with dual towers. Each of the fins have been widened to provide even more surface area and is designed to support loads up to 400w TDP. There will be dedicated variants for Threadripper 4 and will come bundled with the new NH-H2 thermal compound and NF-A15 PWM fans. Look for it sometime next year.