Fast Track to Gen X - Speed Simplified a Aorus Z790 X Refresh
Author:

Dennis Garcia
Published:
Tuesday, August 29, 2023

Conclusion
As I mentioned early in this article the AORUS Z790 X Motherboards are a platform refresh for the LGA1700 CPU from Intel and designed to offer a multitude of upgrades that will not only make your system faster but, even easier to install and maintain.
There will be a total of eight motherboards in this refresh and five of them will be available at launch with a price range between 999.99 for the Z790 AORUS Xtreme X and 279.99 for the popular Z790 AORUS Elite X AX. As you can imagine there are differences when it comes to included accessories however, they all share several common "core" features.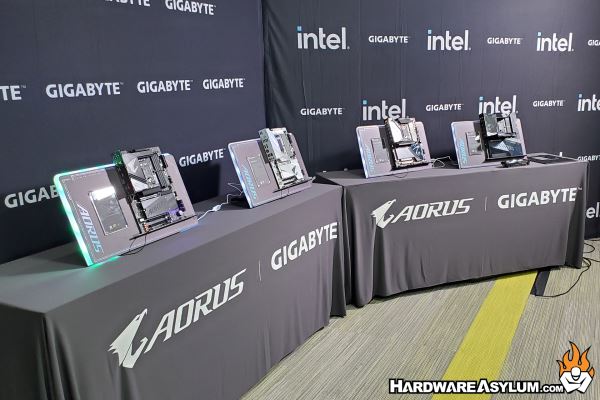 Fast Overclocking Support
This includes support for DDR5 at 8266Mhz and higher speeds which is accomplished using internal memory traces located on layers 3 and 6 which are then finished off with their Back Drilling Technology to further isolate the memory trace from any external interference.
To help support memory speeds at this level users will have the option to select pre-configured overclocking profiles in the UEFI provided that the selected profile matches the memory modules installed.
VRM cooling is handled by oversized heatsinks with 8mm core contact copper heatpipes and complimented with high-capacity thermal pads at levels up to 12 W/mK (On the Xtreme X and Master X) which can lower overall load temperatures up to 10%.
Fast DIY Support
EZ-Latch clips can be found on every Z790 Aorus X motherboard and are designed to help simply the installation process of M.2 NVMe hard drives. The EZ-Latch clips can be found on the M.2 slot to hold the drives in place and on the M.2 Heatsinks used to keep those drives cool.
The latches work by allowing you to simply press the drive or heatsink in place and the spring-loaded latch does the rest. To remove the device simply rotate the latch and remove the item.
EZ-Latch can also be found on select motherboards to aid in removing PCI Express video cards. This button acts as an extension to the PCI Express locking tab allowing easy removal of the card at the press of a button.
Fast Wireless Networking
The final hardware-based item is the onboard WiFi 7 networking which can deliver up to 5.8Gb/s of transfer speed for super low latency transfers and Multi-Link Operation. Included with each WiFi 7 motherboard is a new Ultra-high gain Antenna which can be directional up to 5dbi and Omnidirectional up to 4dbi
New BIOS
The new UC BIOS offers an Intuitive User Experience with new Quick Access Functions allowing users to select commonly accessed BIOS features and have them available on the primary menu. The Redesigned UEFI BIOS screes are designed to be User focused with easy-to-understand performance tweaks. I wasn't able to see the new BIOS first hand but, the design promises to bring more functionality to the Easy Mode screens making it easier to make changes when needed.
There are some new features that are unique to the Z790 Aorus Xtreme X and Maxter X motherboards so, we will dive deeper into those once we have boards in the Hardware Asylum labs.
Overall, the Z790 X Media event was an excellent indepth look into what might be one of the most exciting product refreshes I have ever seen. I'm personally looking forward to checking out the new UC BIOS interface and trying out the new memory overclocking features.