CyberPowerPC Factory Tour: What it takes to build a Gaming PC
Author:

Dennis Garcia
Published:
Tuesday, April 28, 2015

Introduction
For me building a computer is pretty mindless work and after you have done it a few thousand times the steps almost become routine. For instance every time I sit down to do a review I have to assemble a system starting with selecting the individual components, installing an OS and configuring drivers. If I'm overclocking with LN2 this process may get repeated several times depending on what is getting overclocked.
Of course, while I might be considered an expert at building a computer there are many people that like the idea of a purpose built machine but lack the skills, knowledge or desire to do the work themselves. For these select few a company like CyberPowerPC might be the answer as they can step in and do all the work for you. This past month I had a unique opportunity to visit the CyberPowerPC offices and see exactly how they build that computer you just ordered.
What I found to be most surprising during my visit is not really what they build but rather the scale of what they do it. For instance they often assemble over 100 systems a day and will send out three or more semi trailers full of systems a week. On top of that they have an onsite call center 24/7 and handle RMA issues in a special area next to the production line.
Let's take a look around the factory. The photo tour is broken up into sections based on the operation being performed with a few sneak peeks at the end.
As with most offices there is a small reception area.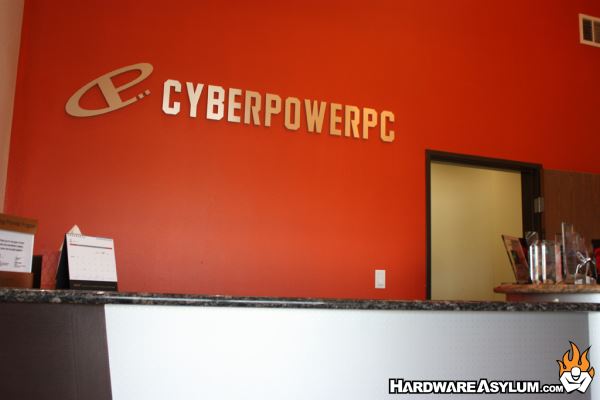 Beyond the reception area is a number of conference rooms all lined with business awards dating back to when the company was first founded.
By the looks of it CyberpowerPC is one of LA's fastest growing private companies since 2003 and has an award to prove it for every year since.