MOA 2014 Grand Final
Author:

Dennis Garcia
Published:
Monday, November 10, 2014
Introduction
Over the years there have been many high level overclocking competitions hosted by just about every hardware manufacturer. One of the longest running events is the MOA (Master Overclocking Arena) hosted by MSI. This is has been regarded as one of the pinnacle events in the industry and very popular with overclockers all over the world.
MSI Master Overclocking Arena (MOA), the global competition reaching its seventh annual event that has set a class of global overclocking masters; and an attraction for them to come and compete at the sacred battleground. Not only the fierce competitions from regional qualifiers to global championship repeatedly entice apex overclockers to participate this great event, but also the worldwide media is keen to partake and broadcast this contest. In continuity of the 3 new overclocking world records that were broken on the same day in 2013, MSI looks forward to the players at MOA this year will surpass limitations and break new worlds again.
I was fortunate enough to attend the grand final this year, not as a competitor but, as a technical correspondent for Overclocking TV. Replays of the event can be found on YouTube and if you get past the audio sync issues it is really pretty good.
Below are some photos from the event and if you want to know more about it be sure to check out the Hardware Asylum Podcast dedicated to the MSI MOA 2014 Grand Final activites.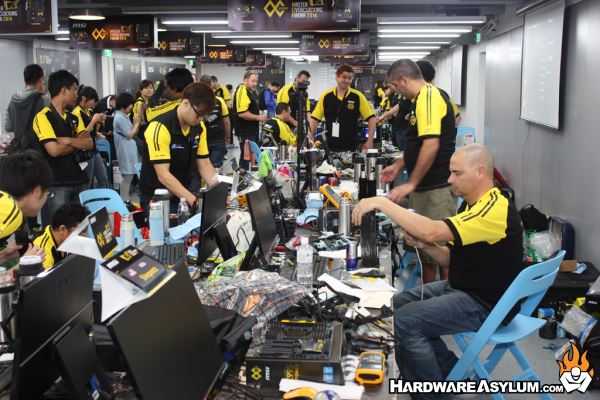 Available Images