Inside a HP Proliant DL360 G5 Motherboard Swap
Inside a HP Proliant DL360 G5 Motherboard Swap
Author:

Dennis Garcia
Published:
Sunday, March 04, 2012

System Board Replacement
I lucked out with my replacement motherboard in that I was able to get the board complete with two Xeon 5110 "Woodcrest" processors and 2GB of ram. The price was right and it would be compatible with my E5410 Harpers.

The important thing to look for when replacing the DL360 motherboard is first making sure the generation matches (eg G5 = G5 etc..) and look at the part number. HP used 3 different motherboards in this server and one of them only supports Dual Core processors.

412199-001 - Only supports 50xx and 51xx Dual-Core
436066-001 - Supports up to 54xx Quad Core Processors
435949-001 - Supports up to 54xx Quad Core Processors

My server came with the 435949-001 motherboard and was also what was featured in the auction. I got it cheap because it came with Dual Core processors which brings me to another thing to keep in mind, BIOS revision. Early BIOS images only supported dual core processors and will refuse to boot with Quad Cores until you flash the BIOS, more on that later.

Tearing the System Down
First thing you need to do is move the server to a work bench and remove the top cover. Inside you'll see something like this, depending on your CPU and server config. The insides of the DL360 are quite elegant with a great deal of time spent on keeping everything cool.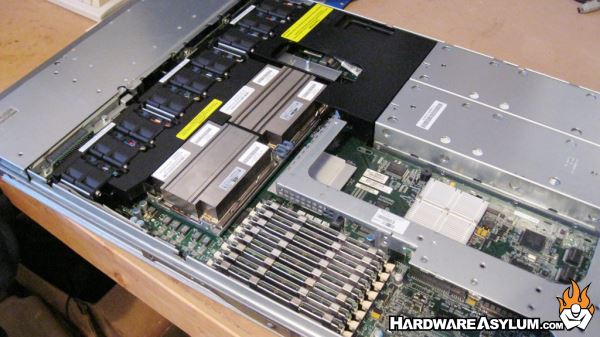 There are two cooling shrouds that must be removed. The first is between the cooling fans and CPU heatsinks.
The second is located on the left and directs air over the RAID controller and into the power supply(s). You'll find a torx key attached to this shroud, don't lose it since you'll need it soon.