Hardline Watercooling Loop Install using Pacific Cooling Gear
Author:

Dennis Garcia
Published:
Sunday, August 21, 2016

Final Coolant Fill and Finished Product
I am a firm believer that you don't need to run your system for 24 hours just to do a leak test. Sure it is a nice number to tell the n00bs but the reality is if the system is going to leak it will do so in the first 5 minutes. And wouldn;t you know it we had two which were easily resolved.
After the leak test the system was drained to make room for the Thermaltake C1000 Orange and I did a short video to mark the occasion.
Coolant Fill
With coolant installed it was time for a few glam photos of the finished mod.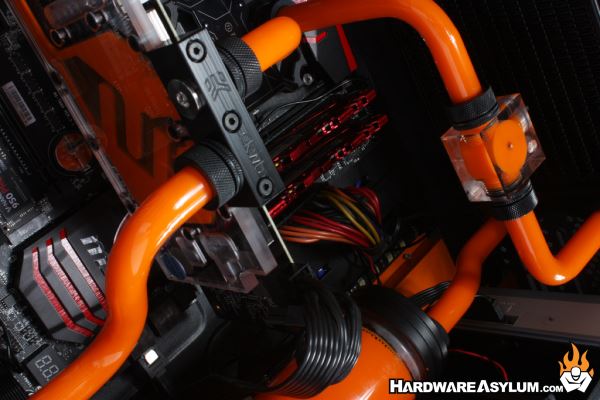 Overall I think the whole thing turned out extremely well. There are obviously some issues with the paint and I identified two issues with the coolant loop which actually got resolved when the loop was reconfigured for a new video card. (MSI GTX 1070 Gaming X)
The final task is actually an optional one and will be custom cable sleeves and have yet to decide if they will be cable extensions or if we will be sleeving the entire cable. Either way it is the final thing on the modding schedule and the only modding related thing left to complete.