Hardline Watercooling Loop Install using Pacific Cooling Gear
Author:

Dennis Garcia
Published:
Sunday, August 21, 2016

First Step Waterblock Installation
Waterblocks simply replace the aircoolers you normally have installed and for this build there are two. For the CPU we are installing a Thermaltake Pacific W2 waterblock. This is a swiftech design and features a poly top and copper base. Two hose barbs are located on top and a LED is located between them.
Be sure to check out the review on Hardware Asylum.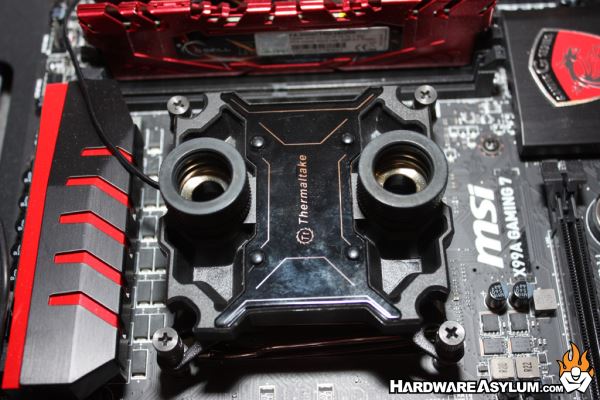 The fittings are the Thermaltake Pacific G14 PETG 16mm OD Compression fittings. They work on all 16mm sized tubes and feature three o-rings. There is one compression ring at the top and two more inside the fitting. The extra o-rings won't prevent leaks but go a long way to keep the tubes in place and provide even more sealing surfaces.
Our second waterblock is an EK video card block for the Gigabyte GTX 970 G1 Gaming. It will replace the popular Windforce cooler and will reduce the overall card length enough so that the pump/res combo can be installed.
EK Waterblock Install
Along with the photos there is video proof that you can install a video card waterblock in around 20minutes including the random joke and witty banter.