Cooler Master HAF 500 Homecoming Classic Review
Author:

Darren McCain
Published:
Thursday, January 20, 2022

Introduction
Over the years we have seen a lot of Cooler Master cases but the High Airflow or HAF series has always stood out. The HAF cases have always provided enthusiasts with a next level option focused on providing maximum airflow for the most demanding builds.
Today we will be looking at the return of the HAF brand through the all new Cooler Master HAF 500 Homecoming Classic featuring dual 200mm fans and AGRB. A new HAF case is long overdue. Let's see if the HAF 500 lives up to the legacy!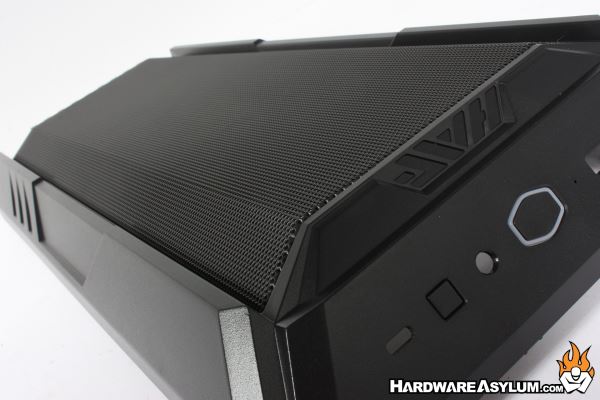 The HAF 500 Homecoming Classic is available in both a white finish and the more traditional all back design you see here. The HAF 500 design looks very similar to the Mastercase H500 with ARGB we reviewed late last year making the HAF version a natural evolution to the line.
Let's take a look at the specs!
Features
Mesh Front Panel
Dual 200mm ARGB Fans
Rotatable GPU Fan
USB 3.2 Gen 2 Type C Support
Screw Less & Tool Free TG Side Panel Design
Removable Top Panel
Versatile Cooling Options
Dimensions: 516 x 224 x 510mm / 20.32 x 8.82 x 20.08 in
Motherboard Support: Mini-ITX, Micro-ATX, ATX, SSI CEB, E-ATX (up to 12x14.1in)
Expansion Slots: 7
Fan Support:
Top: 3 x 120, 2 x 140, 2 x 200mm
Front: 3 x 120, 2 x 140, 2 x 200mm
Rear: 1 x 120mm
Top of HDD Cage: 1 x 120mm
Liquid Cooling Support:
Top: 120, 140, 240, 280 and 360mm
Front: 120, 140, 200, 240, 280 and 260mm
Rear: 120mm
Compatibility:
CPU Cooler: 167mm (6.5in)
Power Supply: 180mm (7.1 in)
Graphics Card: 410mm (16.1in)
Power Supply Support: Bottom Mount, ATX
Cooler Master has come a long way from their 1992 beginnings as a heat sink manufacturer. Today Cooler Master is an industry leader offering a wide range of Custom PC coolers, cases, peripherals and more. Odds are pretty good any custom built or boutique PC will have Cooler Master parts under the hood.