Cooler Master Mastercase H500 ARGB
Author:

Dennis Garcia
Published:
Tuesday, December 8, 2020

Introduction
The Cooler Master H500 is not a new case having first been released in 2018 but has gone through a number of upgrades since its release. I remember being impressed with the case due to the large 200mm RGB fans and ample room inside the chassis. The case was built on the Mastercase 5 and Masterbox 5 platform enabling the case to be a good base for modded and custom PC builds.
One of my favorite cases from Cooler Master has been the Mastercase Maker 5t. This was a luxury edition to the Maker 5 lineup that came with everything. Dual tempered glass side panels, locks, custom red accent colors, carry handle and appropriate covers for both the top and front panels. Despite coming with all the bells and whistles the feature I liked most was how much room was inside the case and support for just about anything.
For a local LAN party I build a fully watercooled Z390 Waterforce build in the Maker 5t backed by SilverStone ARGB fans and light strips. While excessive it was the centerpiece of the LAN and showcased what you could do with the chassis.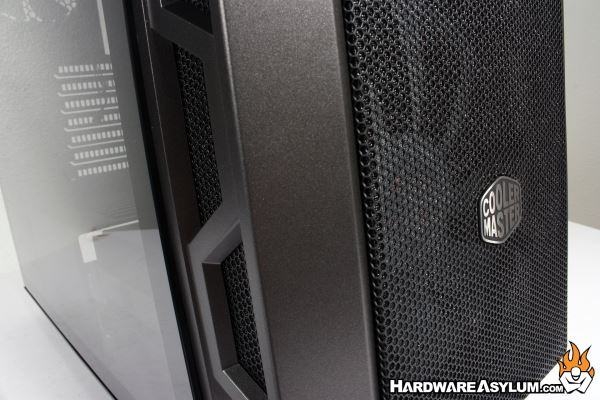 The Cooler Master H500 follows a similar design and while the Maker 5t was intended to be a builder case from the start the H500 took a different approach attempting to combine mind blowing design with a similar build ethic found in other Cooler Master cases.
Specifications
Model Number: MCM-H500-IGNN-S01
Series: MasterCase Series
Size: Mid Tower
Available Color(s): Iron Grey
Materials: Steel, Plastic, Mesh
Dimensions (L x W x H): 525 x 228 x 502mm (Incl. Panels)
Motherboard Support: Mini ITX, Micro ATX, ATX, SSI CEB, E-ATX*, (*support for up to 12" x 10.7", will limit cable management features)
Expansion Slots: 7
5.25" Drive Bays: N/A
2.5" / 3.5" Drive Bays (combo): 2
2.5" Drive Bays: 2
I/O Panel: 2x USB 3.2 Gen 1 (formerly USB 3.0), 2x USB 2.0, 1x 3.5mm Audio Jack, 1x 3.5mm Mic Jack, 1x ARGB Controller, 1x ARGB 2-to-3 splitter
Pre-installed Fans - Front: 2x 200mm ARGB Fan
Pre-installed Fans - Rear: 1x 120mm (Black)
Fan Support - Top: 2x 120mm, 2x 140mm, 1x 200mm
Fan Support - Front: 3x 120mm, 2x 140mm, 2x 200mm
Fan Support - Rear: 1x 120mm
Radiator Support - Top: 120mm, 140mm, 240mm
Radiator Support - Front: 120mm, 140mm, 200mm, 240mm, 280mm, 360mm
Radiator Support - Rear: 120mm
Clearance - CPU Cooler: 167mm/6.5"
Clearance - PSU: 180mm/7.1"
Clearance - GFX: 410mm/16.1"
Dust Filters: Top, Front, Bottom
Power Supply Support: Bottom mount, ATX
Warranty: 2 years