Cooler Master MasterCase Maker 5t Case Review
Author:

Dennis Garcia
Published:
Tuesday, December 06, 2016

Introduction
Casemodding is the process of modifying your computer case to suit your needs. Sometimes this is something simple like a color change or can be more involved to support things like a complex water loop or hardware the case was never designed to handle. Regardless of the process the defining factor is that something changed to "Make it Yours". In the early days casemodding it was rather easy to spot because the mods required a fair amount of skill to complete. That isn't always the case these days.
With the rise of modular chassis designs the "modding" aspect of casemodding has become simpler allowing users to assemble creative system builds that would have been otherwise impossible to accomplish, at least by a novice user. It would seem this process is even possible at the factory level as is the situation with this new chassis from Cooler Master.
In this review I'll be looking at the MasterCase Maker 5t from Cooler Master. The MasterCase Series launched in 2015 and has become a very popular platorm for casemodders given its Freeform Modular System and attention to watercooling. With the Maker 5t the bar has been raised with custom paint and a carry handle inspired by the Cooler Master Storm Trooper and Storm Stryker.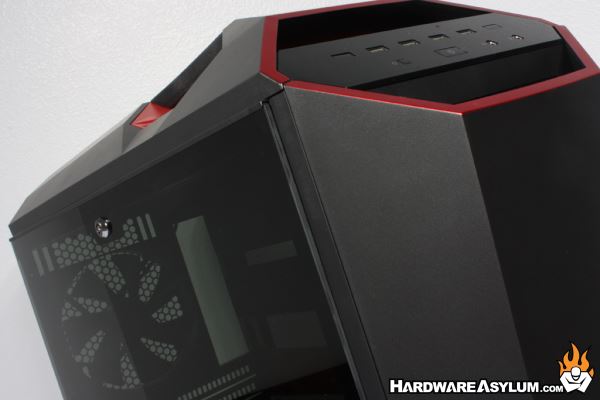 Specifications
Model MasterCase Maker 5t
P/N MCZ-C5M2T-RW5N
Available Color Metallica Red-Black
Materials SECC, Plastic, Tempered Glass
Weight 13.5 kg/29.8 lbs
Size (LxWxH) 544(L) x 242(W) x 574(H) mm
Mother Board Support ATX, Micro-ATX, Mini-ITX
Expansion Slots 7
Drive Bay 5.25" 2x / 3.5" 2x / 2.5" 2+2
I/O Panel USB 3.0 4x / Audio In & Out / Fan Speed Control / LED Light Control
Pre-install fans Front 140mm x2, Top N/A, Rear 140mm x1
Fan Support Front 120/140mm x3, Top 120/140mm x2, Rear 120/140mm x1
Water Cooling Front 240/280mm radiator, up to 40mm thickness without fan, Top N/A, Rear 120/140mm
CPU Air Cooling Support 190mm/7.5inches
VGA Card Support w/ 3.5" HDD Cage 296mm/11.7inches, w/o 3.5" HDD Cage 412mm/16.2inches
Cable Management 35mm
Dust Filters Front/Top/Bottom
Power Supply Type Bottom Mount, ATX PS2
Lighting Support Red LED Strip 1x Included / Total of 4 connections
Extra Features MasterCase M-Port Graphics Card Holder
MasterCase Maker 5t is a very unique chassis and what I would consider to be a pinnacle version in the MasterCase series. The chassis includes all of the popular features including tempered glass and custom paint while leaving many of the gaudy features like mirrors and highly polished plastic on the design room floor. It really is an elegant design and one of the highlights I saw while visiting Cooler Master this past summer.
In my case reviews I attempt to look at the case through the eyes of the casemodder and will be looking at things like case construction, cooling and modding opportunities. These features can be important when setting out to build your own custom PC and will determine the level of effort needed to complete a modding project. Of course things like outer appearance and component support are also important factors but, if you are reading this review you've already decided on a style and just need confirmation on the particulars.