Cooler Master MasterCase Maker 5t Case Review
Author:

Dennis Garcia
Published:
Tuesday, December 06, 2016

MasterCase Maker 5t Cooling Options
From the factory the MasterCase Maker 5t comes with three 140mm cooling fans located at the front and back of the chassis with support for three more depending on your cooling needs.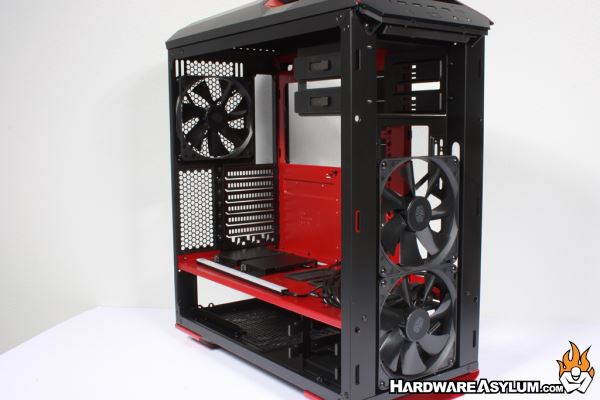 All of the fan mounting locations are slotted so you can position the fans however you like and the slots also support a greater variety of cooling options including radiators that don't always follow conventions.
One of the defining features of the Maker 5t is the top mounted carry handle. This handle has been integrated into the pro style MasterCase top and comes with three very large cooling vents. The first is located at the back of the case above the exhaust fan while the second is somewhat hidden below a removable panel. The third is located under the carry handle and somewhat highlighted by the red panel vent.
Removing the top cover allows you to access the "pro" series upper radiator bracket which supports supports two 120mm or 140mm case fans or a single 240/280mm radiator plus a standard 25mm (thick) case fan.
You'll have to remove the carry handle to access the radiator bracket which can be done by removing a single screw at the front of the handle and two at the base of the radiator bracket or you can pull it completely off like what I did. Either way works though, arguably, one allows you more wiggle room when installing your cooling gear.
Additional or Optional radiators can be installed at all of the fan locations including a 280mm at the front and/or a single 140mm at the back. Of course your installation experience may vary depending on radiator configuration and motherboard.
Fan and LED Controller
What custom chassis would be complete without a built in fan controller? The Maker 5t comes with an internal fan and LED controller mounted to the back of the motherboard tray. It can control up to six fans (the total number supported by the 5t) and up to four LED strips. These strips are the two wire type which is unfortunate given the prevalence of four wire RGB strips.
Power is provided by a single 4-pin molex AND a standard SATA power connector. SATA Power for the fans and LED while the molex powers the controller. As was mentioned before, both can be controlled from the front panel buttons.
The included red LED strip is magnetic with a frosted plastic cover to soften the RGB lighting. As the photo shows the light is very bright with the help of a slightly overexposed effects photo.