Cooler Master MasterCase Maker 5t Case Review
Author:

Dennis Garcia
Published:
Tuesday, December 06, 2016

Case Construction
Case construction is quite good with the inner frame being constructed from quality SECC steel. All of the corners are rivet reinforced with very clean locking joints indicating that the Cooler Master manufacturing is still extremely good. You will notice extensive venting along the back panel giving the case a decorated appearance that won't sacrifice cooling performance.
You will find 35mm of space behind the motherboard for cable routing and the accessory rail acts as a cable chase to organize the factory wiring. Velcro straps are used to keep the wires in place and removed from whatever PSU wires you need to run for your build.
Panel venting is a metal mesh over plastic decoration that can be very visually subdued of can be a highlight of your build with a little bit of paint.
One of the many new features of the MasterCase Maker 5t is the inclusion of a front panel used to visually match the top panel and cover the external drive bays and intake fans. This panel swings away to allow access to any external optical drives in your system or can be completely removed if needed.
Sound foam has been installed on the back side of the panel to help absorb fan noise. This is not a sound blocker but every little bit helps.
Maybe one of the coolest features of the Maker 5t is the tempered glass side panels. These panels add significant weight to the case but look amazing and the shaded glass is a nice touch allowing you the option to hide your internal components by simply switching off the internal lights.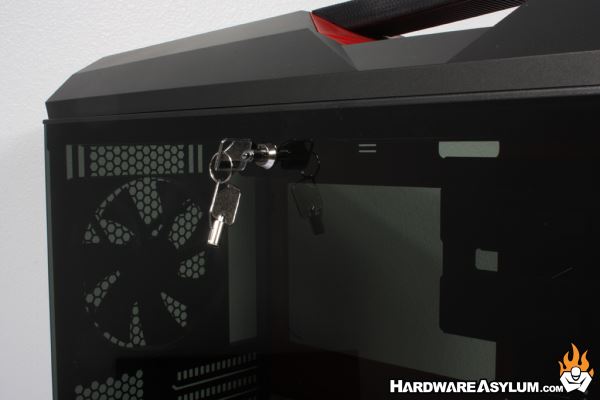 The process of installing the side panel was adapted to the case so it can use the factory rails. To accomplish this metal pieces had to be fitted to the heavy glass allowing them to tilt away and lock into the existing chasis. A computer lock has been installed on both side panels making the Cooler Master Maker 5t one of the most secure gaming cases with tempered glass side panels you can buy.