Cooler Master MasterCase Maker 5t Case Review
Author:

Dennis Garcia
Published:
Tuesday, December 06, 2016

Case Layout and Features
MasterCase Maker 5t is a mid tower design featuring shaded tempered glass side panels and sleek 45 degree angle cuts along the top, front and bottom edges. These cuts have been extended to give the chassis depth and a very cohesive style.
The back of the case is very traditional with a primary exhaust fan located over the I/O. A total of 7 expansion slots are available with the bottom slot being occupied by the patented cable lock made popular during the Storm Gaming case series.
Front panel controls have been expanded with four USB 3.0 ports, two audio ports and buttons for power and reset. It is a little difficult to see in the photo but on either side of the USB you will find a button. The button on the right is a fan speed switch between high and low while the button on the right is an LED control.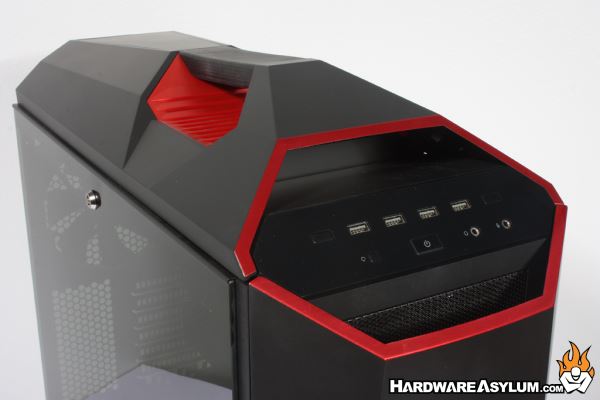 One of the defining features of the Maker 5t is the use of a metallic red accent color. You can see this on the panel edges, under the carry handle and with the case feet at the bottom.
Cooler Master introduced the cable lock several years ago. While it doesn't make headlines much anymore it is a very simple and effective theft deterrent for when your PC is in a public space like a LAN Party or Dorm room. It won't prevent your PC from getting stolen but once you wrap a mouse, headphone and keyboard cable through the lock it will prevent people from simply unplugging your gear and taking it.
At the bottom of the case you will find the power supply location with a removable panel allowing you to position the PSU with the fan facing up or down. The location is protected by a removable dust filter and the whole case is lifted one inch off the ground by the removable case stands.