Cooler Master MasterCase Maker 5t Case Review
Author:

Dennis Garcia
Published:
Tuesday, December 06, 2016

MasterCase Maker Interior and Features
Despite the modular aspects of the MasterCase Series the layout is very traditional with motherboard, drives and power supply in, what are now considered, normal locations.
The PSU is located at the bottom of the case and is covered to create physical separation between the PSU and motherboard section of the case.
MasterCase Maker 5t comes with two fully removable drive cages. The top most cage is for external 5.25" drives and features quick release locks for easy installation. Below that is the internal 3.5" drive cage with removable plastic trays supporting both 3.5" and 2.5" drives.
Across the top of this panel you'll find several openings for cable management and two mounting plates for 2.5" SSDs.
You will find two more SSD tray locations behind the motherboard tray. These are empty by default however you can purchase more drive trays from Cooler Master or move them over from the front or another case.
While the external drive cage is only good when positioned at the top of the case the hard drive enclosure can be repositioned anywhere along the perforated rack.
This kind of versatility goes a long way when it comes to customizing your case allowing the majority of us who only need a single hard drive to clean up the case internals with very little modification. Of course for those who actually need more hard drive locations they can buy expanded drive cages from Cooler Master and install them however they want.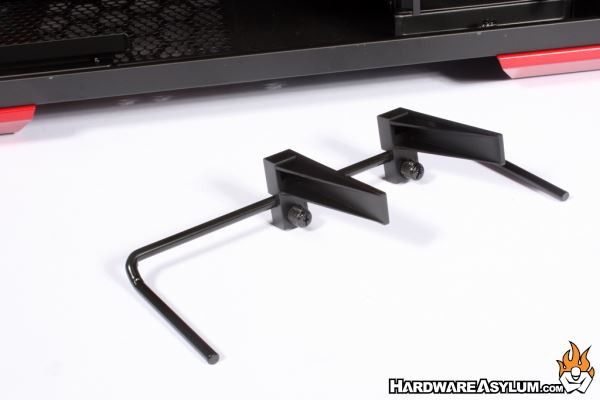 Speaking of versatility, the accessory rail can be used for more than hard drive cages and with the Maker 5t you'll get the MasterCase Graphics Card Holder. This handy Freeform device is designed to accommodate and support graphics cards with large and heavy coolers. These have a tendency to sag and can be damaged during transit and this bracket can help. By default it supports two video cards and is adjustable to match any configuration.