Cooler Master Silencio S600 Silent Case Review
Author:

Dennis Garcia
Published:
Saturday, July 06, 2019

Introduction
I have reviewed quite a few cases over the years. Some were designed to be small while others could house a family of animals hosting a house party for all their friends. Some are minimally designed to be more like open air test benche while others have come with elaborate air channels designed to trap noise while still allowing air to be exhausted from the chassis. Despite all the differences the one thing all have in common is that they were designed for a purpose, a market segment and a price point.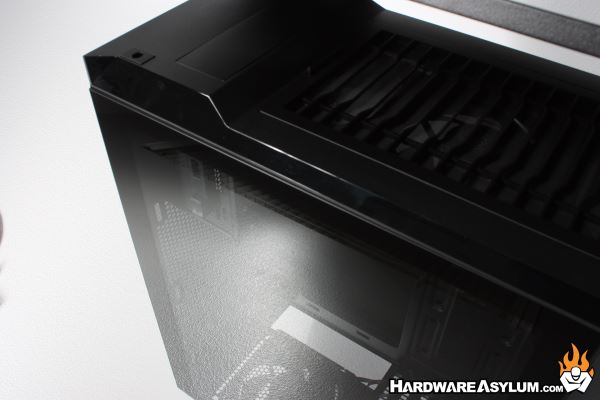 In this review we will be looking at the Silenco S600. This case was being shown during Computex and launched shortly after on June 18th. As the name implies it is a case designed for users that like things to be quiet and is intended for low and mid market buyers that may not have the latest or fastest hardware but, recognize that a good case is an important aspect of any PC build.
Specifications
Model Number MCS-S600-KN5N-S00 (Steel), MCS-S600-KG5N-S00 (TG)
Series Silencio Series
Size Mid Tower
Available Color(s) Black
Materials Steel, Plastic, Tempered Glass, Sound Dampening Material
Dimensions (LxWxH) 478mm x 209mm x 470.5mm (incl. Protrusions), 466mm x 209mm x 460.5mm (excl. Protrusions)
Motherboard Support Mini ITX, Micro ATX, ATX
Expansion Slots 7
Drives 5.25" Drive Bays 1 / 3.5" Drive Bays 4 / 2.5" Drive Bays 5
I/O Panel 2x USB 3.2 Gen 1 (formerly USB 3.0), 1x 3.5mm Headset Jack (Audio+Mic), 1x SD card reader
Pre-installed Fans - Front 1x 120mm (PWM 800-1400 RPM) / Rear 1x 120mm (PWM 800-1400 RPM)
Fan Support - Front 2x 120/140mm / Top 2x 120/140mm / Rear 1x 120mm
Radiator Support - Front 120mm, 140mm, 240mm, 280mm / Top 120mm, 240mm (requires removal of ODD cage), (35mm max motherboard component height) / Rear 120mm
Clearance - CPU Cooler TG: 166mm, Steel: 167mm / GPU 398mm / PSU 180mm/7.08"
Power Supply Support Bottom Mount, ATX PS2
Dust Filters Top, Front, Bottom
EAN Code 4719512087398 (Steel), 4719512087404 (TG)
UPC Code 884102059841 (Steel), 884102059858 (TG)
Cable Routing 18~26mm
There are several different markets for computer parts around the world. In the US we concern ourselves with performance and making sure we get the best bang for our hard earned dollar. Sometimes this comes at the expense of the top performance but, we give ourselves the option to upgrade later. Elsewhere in the world performance is not really a concern and is often associated with excess noise and ruffian cowboys from across the pond. To make sure that both markets are satisfied many companies will offer two different versions of a product to ensure that everyone is happy.
When it comes to computer cases there is a lot that goes into a design to ensure that it will be a silent. Of course a case has no real moving parts (fans excluded) so is can never actually make any noise, In fact a silent case is designed more to isolate noise and prevent the noisy components from being too loud.
This can be done in a number of different ways and the Cooler Master Silencio S600 puts many of them to good use.