Cooler Master Silencio S600 Silent Case Review
Author:

Dennis Garcia
Published:
Saturday, July 06, 2019

Case Layout and Features
The Silencio S600 is a full tower case based on the NR-400/NR-600 as they were developed simultaneously. That generally means that tooling can be re-sued to help get products to market faster. Obviously the NR was released first and you can check out our review of the NR-400 here. As with many silent case designs it takes a little longer to get things right and have the qualifying tests done.
Silencio S600 comes in two basic versions. The first features a solid side panel and will give you the best audio performance due to there being more sound absorption material.
The second version offers a tempered glass side panel and really isn't that much different in the sound department due to how thick the tempered glass is. To put it in number terms, the tempered glass version is less than 1dBa louder using the stock fans over the version with a soild metal panel. Of course, not counting installed components.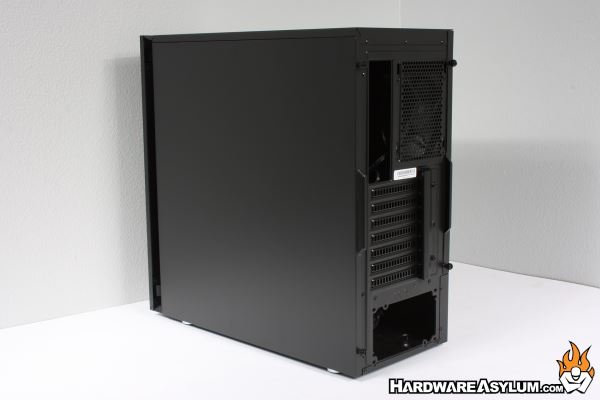 Turning the case around you'll see a very standard layout with the power supply located at the bottom and 120mm fan location at the top. The rear side panel can be removed with two screws.
What I like most about the Silencio S600 is the panel fitment. The rear panel covers the entire side of the case with the exception of a seam across the top. The same is true on the panel side however the gap becomes almost non-existent given that the panel sits on top of the PSU shroud and locks into a lip at the top of the case.
One feature that is common on silent case designs is the addition of a front door. In the past these were simply to dress up the front of the case and hide your ugly optical drives. However, in the silent case world the door absorbs excess fan noise from the primary intakes.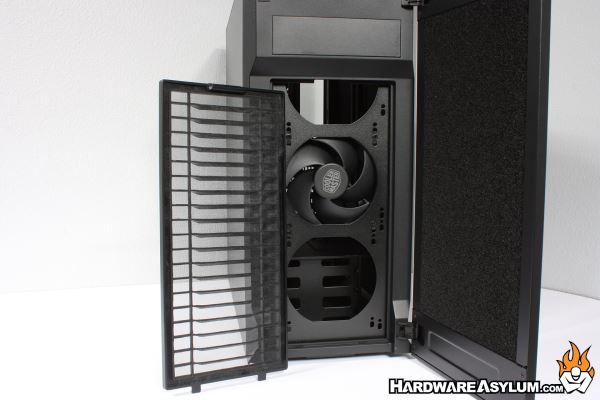 Silencio S600 features a reversible front panel door allowing you to switch the swing as needed which covers a single external 5.25" drive bay and a gridded and filtered intake. The intake is made from a fine mesh to improve cooling and more importantly to prevent the intake fan from cavitating and generating more noise.
The door is made from a rather thick piece of plastic and lined with sound absorption material.