Cooler Master Silencio S600 Silent Case Review
Author:

Dennis Garcia
Published:
Saturday, July 06, 2019

Storage and Conclusion
As with any case the real issue comes when you try to route cables. Of course if you have metal side panels the cables don't need to be very pretty but do need to be tied up to ensure the side panel can be installed.
Looking at the base of the case you can see that Cooler Master has included a place to store cables behind the motherboard tray towards the front. This area offers about an inch of space and should be plenty of room to get I/O and video card cables routed. To the right you'll find locations for 2.5" SSD drives with 3.5" drives located under the PSU shroud.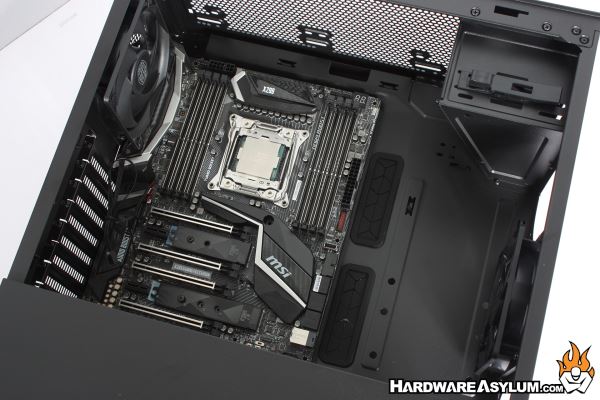 You'll also find additional drive mounting locations on the PSU shroud inside the case.
In terms of watercooling the Silencio S600 is primarily designed for AIO cooling with radiator support at any of the primary fan locations in ranges between 120mm and 280mm supporting dual 140mm fans.
Conclusion
I'm not sure what it is but I really like the clean lines of the Silencio S600. As I had mentioned before the panel fitment is extremely good and given the sound absorption material on the external panels it really has no resonance.
Inside the case the panels do have some flex and will make noise if your fans are out of balance or when that Duran Duran CD starts spinning up for your 80's dance party. However, with most builds this will become a non-issue given that what vibration there is will get absorbed by the external panels.
The S600 has an amazing level of drive support with a single external 5.25" 4x internal 3.5" drives and 5x 2.5" SSDs in various locations around the case.
In terms of external style the front door is fully reversible allowing it to swing from the right to left with only a few screws and can really help in certain desk configurations. The case is also available in two different configurations between a full metal side panel and tempered glass. Personally I would suggest the tempered glass option given how clean the lines are, how well the glass fits and how little the noise signature changes.
As for modifications, this is a tough one considering that most modders would "not" use a silent case as a base for their custom mod however the full metal design is a great canvas for custom paint or a vinyl wrap. For those of you skilled in the Dremel you should never shy away from cutting a custom window shape. A DIY watercooling loop is always an option though the S600 seems better suited for an AIO unit and unless you go with tempered glass or some Dremel time any RGB LEDs will be fully wasted.
Good Things
Silent Design
Excellent Included Fans
Clean Design
Tempered Glass Option
Multi Drive Support
External 5.25" Drive Support
Reversible Front Door
Included Card Reader
Bad Things
Internal panels are pretty thin
Sound resonance panels add weight
Hardware Asylum Rating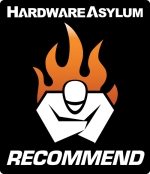 Cooler Master Silencio S600 Silent Case Review
Recommend
https://www.hardwareasylum.com