Deepcool CH510 Mesh Digital Case Review
Author:

Dennis Garcia
Published:
Saturday, March 11, 2023

Case Interior and Cooling
The tempered glass is held in place with pressure clips instead of the traditional screws making removing the glass extremely easy and completely toolless. With the glass removed we can get a better look inside.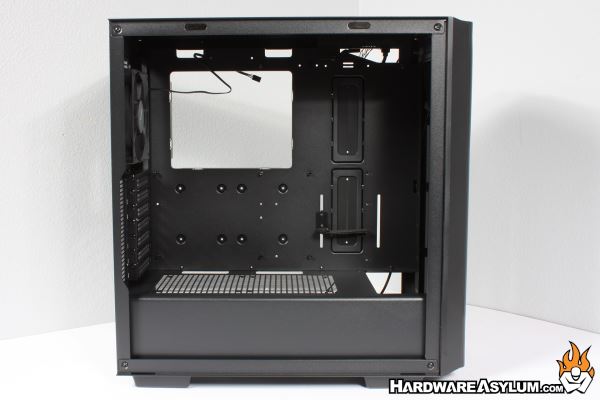 You will find an extremely large opening behind the motherboard tray for heatsink access along with several smaller openings across the top for power cables. To the right of the motherboard tray you'll find two large cable access sections with rubber grommets along with a bracket used to help support those extremely large graphics cards and prevent them from sagging.
There is no vertical GPU mounting provisions but, you will get a full basement panel covering the power supply that is also fully vented with locations for two 120mm fans.
Storage is handled in two locations. Under the basement panel is the drive rack supporting larger 3.5" hard drives.
Across the back of the motherboard tray, you'll find mounting locations for two 2.5" SSD drives.
Case Cooling
For a simple chassis design the Deepcool CH510 Mesh Digital supports a large number of fans but, only includes one with the case.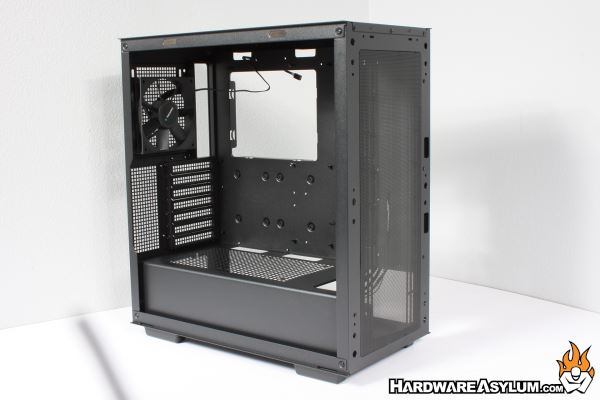 You can install triple fan radiators in both the front and top sections of the chassis and are both protected by a magnetic filter panel that is easily removed for cleaning.
As I already mentioned, the front bezel features the digital monitoring screen at the top while the rest of the panel features a very open square mesh pattern for low resistance cooling while also offering a stylish look.