Enermax Equilence Silent Case Review
Author:

Dennis Garcia
Published:
Friday, March 16, 2018

Introduction
In America there was never a huge push to have a silent case. In fact I still remember when 60mm Delta screamers were "normal" despite producing enough white noise to start a small band. Of course that was a long time ago and computer cases and cooling technologies have matured. One development that came out of the delta era was how to make things quiet and is why case makers include rubber mounted hard drive trays and fan makers add rubber pads to their fans. Simply put fast moving fans and out of balance hard drives tend to vibrate and case reverb can get quite loud.
In this review I'll be showing you a new case from Enermax called the Equilence. The name looks like they squished "Elegant Quiet Silence" all together and, in a way it makes sense. Equilence is a mid-tower chassis that is designed to be a silent PC case. There is no direct access to the intake fans and the panels have been treated with sound deadening material similar to what you use in high powered car stereos.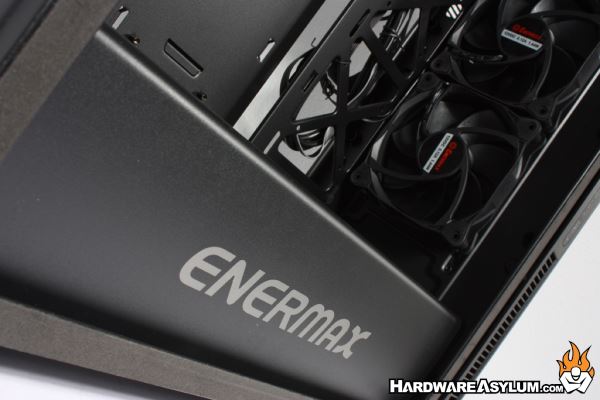 Specifications
Model Name ECA3511A-BB
Dimensions (mm) D500 x W235 x H510 mm
Material 0.8mm SPCC
M/B Type ATX, Micro ATX, Mini ITX
I/O USB3.0 x 2, USB2.0 x 2, HD Audio, Fan controller
Drive Bays 3.5" 2 / 2.5" 6 (Hidden, converted from 3.5" HDD trays)
Expansion Slots 7
Fan Slots
Front 3 x 120mm (2 x 120mm fan pre-installed)
Rear 1 x 140 / 120mm (1 x 140mm fan pre-installed)
Top 2 x 140 or 3 x 120mm
Side 2 x 120mm
Liquid Cooling
Top 360 / 280 / 240mm radiator
Front 360 / 240mm radiator
Rear 140 / 120mm radiator
Side 240mm radiator
PSU Standard ATX Type
Maximum Compatibility
VGA Card Length: 420mm (280mm with side radiator)
CPU Cooler Height: 175mm
There are a number of ways to make a case silent and some actually work well at maximizing their acoustical properties while others follow silent design principles and address some of the problems that make a case noisy. The Equilence is a combination of the two. Let's take a look at why.