Enermax iVektor Case Review
Author:

Dennis Garcia
Published:
Thursday, November 14, 2013

Introduction
We have reviewed a good number of cases over the years. Some of the designs are for small form factor builds while others embody the epitome of an extreme system. Of course they all serve a purpose and it's in our nature to gravitate to the most unique designs so to distance ourselves from our peers. The problem with unique designs is that they often create problems later on. For instance a 200mm fan is great for cooling a chassis but replacing that fan when it dies is almost impossible. Likewise, big cases aren't well suited for small apartments and small cases limit your build options so you have to be careful which one you pick. In these instances we need a case that symbolizes a balance, something with curb appeal and something large enough for your enthusiast build and yet small enough to fit anywhere.
In this review we will be looking at the Enermax iVektor. The iVektor is a classic mid-tower chassis which is a form factor that seems to be ignored by many of the major case manufactures. Yes, you can still buy a mid tower but, the options appear to have dwindled over the years in favor of slightly larger designs.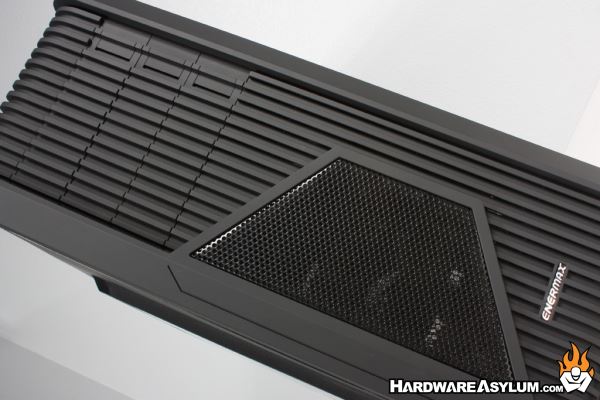 Enermax has released the iVektor in three color combinations. White with black accents, red with black accents and a pure black like the one featured in this review. It should be noted that both the white and black variants feature a soft touch rubberized coating that not only prevents fingerprints but also helps the case resist damage from the inevitable bumps and scrapes. The red chassis features a high gloss paint job but is otherwise identical to the rest.
The outward appearance of the iVektor is very unique. Along the front of the case you will find a set of vertical bars that intersect an angular shape that doubles as the primary intake . The slats not only provide visual appeal but also offer a small bit of ventilation along the edges.
Spinning the case around you can catch a glimpse of the embossed back panel, expansion slot layout, 120mm exhaust fan and position of the power supply. There is no wasted space in this chassis.
Specifications
Dimensions (mm) D495 x W234 x H508
Weight (Kg) 6.1
I/O 2 x USB 3.0 + 2 x USB 2.0, HD Audio, Fan Speed Controller
M/B Micro ATX, ATX
Power Supply ATX 12V (Optional)
Drive Bays 5.25" 3 x Exposed / 3.5" 7 x Hidden / 2.5" 4 x Hidden (converted from 4 x 3.5")
Expansion Slots 7
Fan Slots Front 2 x 12cm (12cm LED fan x 1 included ; the other fan is optional) / Rear 1 x 12cm (12cm fan x 1 included) / Top 2 x 12cm or 240mm radiator (Optional) / Bottom 1 x 12cm (Optional)
Height of CPU Cooler 179mm
Water Cooler Support 240mm radiator installation