Enermax iVektor Case Review
Author:

Dennis Garcia
Published:
Thursday, November 14, 2013

Installation and Conclusion
The iVektor supports standard ATX motherboards with a total of seven expansion slots. You'll find plenty of room at the back of the chassis for self contained watercooling units and the top 120mm fan locations are perfect for dual fan radiators.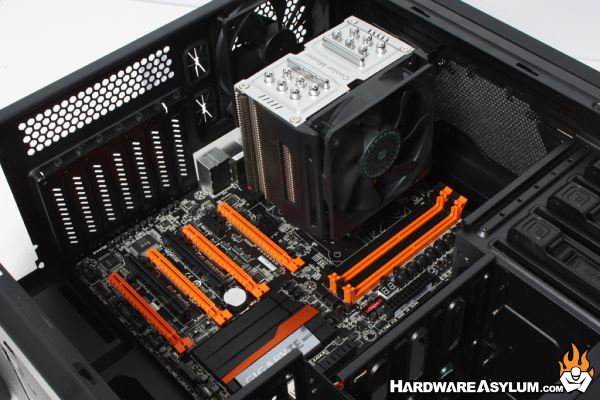 To give an indication of size we used the Gigabyte Z87X-OC, which supports Haswell based processors, topped with a Cooler Master TPC-812. The motherboard is wider than your typical ATX motherboard and as the photos show there is still plenty of room to get cables to all of the vital locations.
In terms of depth the TPC-812 fits quite nicely with plenty of room around the heatsink for ample cooling. We have no doubt that any tower style cooler will fit in the iVektor provided it sits no taller than 179mm.
Conclusion
These days it is pretty easy to find a computer chassis however, finding a good chassis that meets your needs can be quite a challenge. We feel that the Enermax iVektor brings with it a good balance of realistic features that will meet the needs of almost any system builder. Of course the key word here is "realistic". Most hardware enthusiasts know that many cases are overbuilt with features and while the inclusion of these features does wonders for shoppers looking at "bang for their buck" in reality you don't need 20 hard drive bays in a typical system.
The iVektor has a very modest cooling system and comes with two 120mm fans in the typical intake and exhaust locations. There are allowances to include four more fans to give you an even push pull cooling configuration. Sadly given the fan locations it will be difficult to provide positive air pressure but you can help remedy that with a few dremel cuts.
Speaking of modifications there are a few options available with this case. An obvious choice would be a paint mod involving the metal grills embedded in the bezels followed by a coat of color to the chassis. Painting the outer shell would be extremely difficult given the rubberized coating but anything metal will accept paint quite well. For those of you that like to watercool your options will be limited to a AiO dual fan cooler unless you are willing to remove the bottom 3.5" drive cage or have combo pump+res that will fit in an external drive bay.
The iVektor does come with a rather large window that is secured in place with several metal tabs. Normally we would say windows are bad but on this product the panel is very tasteful and a perfect size for a well placed appliqué.
Good Things
Excellent Styling
Included Fan Controller
Rubberized Coating
Modular HDD Rack
Three Colors Available
Hidden External Bay Covers
Bad Things
Plastic thumb screws
Poor external venting
No 140mm fan option
Hardware Asylum Rating
Enermax iVektor Case Review
Recommend
https://www.hardwareasylum.com