Enermax iVektor Case Review
Author:

Dennis Garcia
Published:
Thursday, November 14, 2013

Case Interior
As you can imagine the interior of the iVektor resembles that of a typical mid-tower. External drive bays are located at the top of the case followed by the internal hard drive bays below. As a point of construction the motherboard tray attaches directly to the 5.25" drive bays leaving the two internal drive cages separate and easily removed.
Speaking of removal, the case comes with the middle drive cage configured for 2.5" SSD drives but can be expanded to support 3.5" drives or removed completely to accommodate extremely long video cards. The screws you see are part of the tool less design that secures one end of the drive rail. The other end is secured using thumb screws at the top.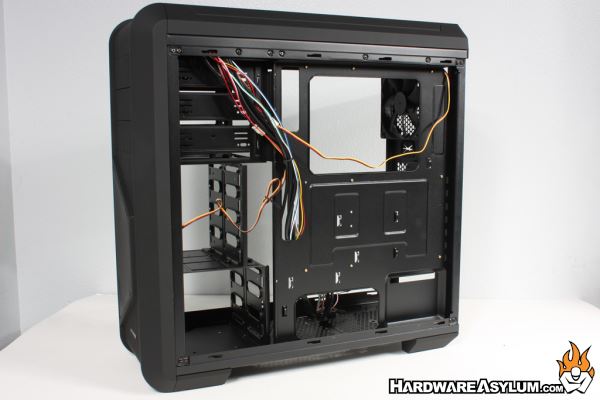 As with all cases there is a certain amount of stock wiring used to connect fans and the front panel controls, a single ziptie holds these wires in place. To aid in cable management there are a number of loops cut into the motherboard tray giving you something other than existing wires to attach to.
Case Cooling
Case construction is quite good with the inner frame being constructed from folded steel. The metal isn't particularly thick but is reinforced with properly placed bends. All of the corners are double rivet reinforced with very clean locking joints.
The side and top panels are made from light gauge steel and do tend to rattle a bit if they are not firmly attached.
When it comes to side windows we have found that some are done just for the sake of having one while others are elegantly executed and serve a purpose. The window found on the iVektor is the latter of these two. Not only is the window molded into the side panel but the cut matches the panel embossing and is tinted to provide reflection and style for your system components.
Looking at the reverse of the front bezel you'll find a removable foam filter along with the spring clips that hold the drive bay covers in place. What is difficult to see is the extensive venting along the edges of the bars. While these don't offer that much in the way of airflow they are cut in such a way that a steady hand and dremel cutter could open them up and not impact the outward look.