Phanteks Enthoo EVOLV ITX SE White Case Review
Author:

Dennis Garcia
Published:
Monday, September 21, 2015

Introduction
When I visited CyberpowerPC earlier this year they showed me a new system they were working on that used a really cool Mini ITX case. One of the unique features of the SFF case was that instead of the motherboard laying flat with the PSU above the cpu cooler it was hanging in a vertical position like most Mid and Full tower cases. This orientation allowed them to install a full 240 AIO watercooler, full length video card and still have plenty of airflow to keep the motherboard and video card cool.
The case they used was the Phanteks Enthoo EVOLV.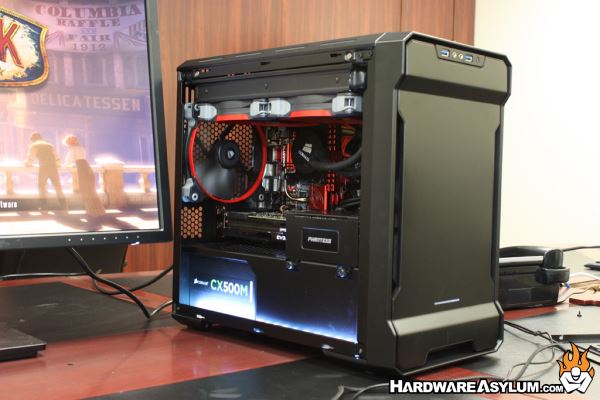 In this review I'll be looking at the Enthoo EVOLV SE. The case comes in a variety of colors and the one featured in this review is white with black interior bits. As I mentioned before this is a Mini ITX case and supports dual slot video cards, water cooling and some rather unique hard drive mounting locations.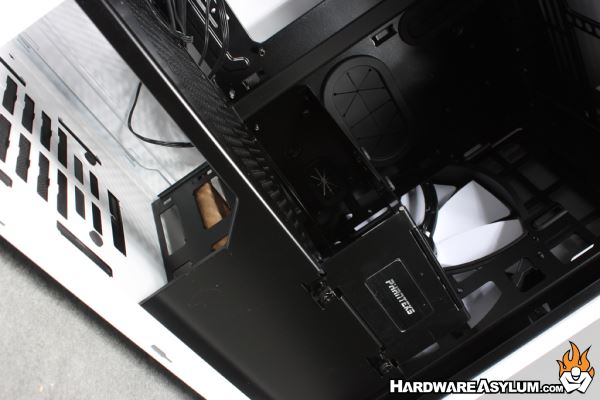 Specifications
Dimension 230 mm x 375 mm x 395 mm (W x H x D) / 9.1 in x 14.8 in x15.6 in
Form Factor Mini ITX Tower Chassis
Material(s) Steel plates, Plastic, Steel chassis
Motherboard Support Mini ITX
Front I/O 2x USB 3.0 / Mic / Headphone / Reset
Side Window Yes
Expansion slots 2
Internal 3.5" 2 (1 slot for upgrade)
Internal 2.5" 1 (1 slot for upgrade)
Cooling
- 1x Rear (120mm/140mm)
- 2x Top (120mm/140mm)
- 1x Front (200mm) or 2x (120mm/140mm)
Liquid Cooling 120mm up to 280mm Radiator
Clearance
- Graphic card 330 mm (13 in)
- CPU cooler 200 mm (7.9 in)
- Cable management 28 mm (1.1 in)
- Radiator (Top) 54 mm (2.1 in)
Net Weight 5,4 kg (12 lbs)
Gross Weight 8 kg (17.7 lbs)
Warranty 5 Years Limited