EVGA DG-77 Tempered Glass Gaming Case Review
Author:

Dennis Garcia
Published:
Monday, November 27, 2017

Introduction
It has been a little over a year ago EVGA released the DG-8 series of gaming cases. These were designed with the intent of supporting a wide variety of cooling options, 4-way SLI and helped redefine how we think of a modern gaming case. Traditionally a case was positioned with the front being the side holding the external drive bays while the side was showing the internal components. With the DG-8 it had no external drive bays and was designed with the front being the long side so you could see everything inside. Despite the overall size of the DG-8 the design worked well and has become a hallmark for how modern chassis design has changed.
In this review I'll be looking at the EVGA DG-77 in Alpine White. This is a different kind of chassis that really looks at computer building differently and from the standpoint that just because you can doesn't mean you should. This is something I have been saying for years and yet case makers would still go out of their way to build a case that had everything anyone would want.
- Someone asked for 10 drive locations?, let's put it in there.
- DIY watercooling is hot right now!, Make sure you can install four radiators.
- Oh someone in Malaysia wanted a drive dock? Sure we can do that.
With a strong preference against including external drives there is really no reason to have much more than two internal drive locations and a few USB 3.0 ports. By Including anything else you just waste money and valuable space.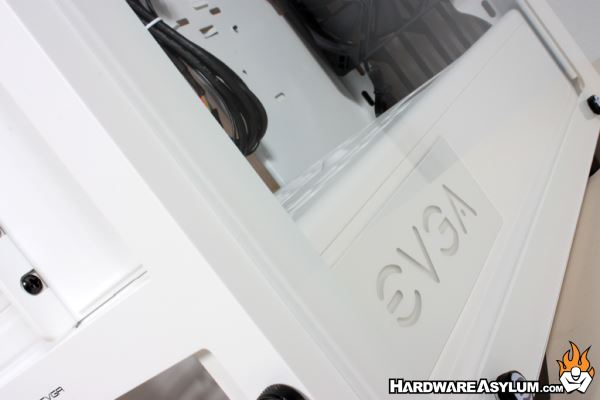 The DG-7 Series is designed as a gaming case for the modern system builder. It is currently available in four different variants. DG-77 featured in this review encompasses the top of the line with all of the features included.
DG-76 is identical minus a tempered glass side panel, you will be down a 120mm cooling fan and doesn't come with a vertical GPU bracket. A vertical GPU is an option on any of the DG-7 cases however, you'll need to acquire the additional parts from EVGA.
DG-75 is similar but starts to lose quite a few features that define the DG-7. You'll be missing out on K-Boost (Software based overclocking using DG-Tuner), No included RGB LED controller (Again with DG-Tuner), it only comes with two fans and you lose the plastic I/O cover located on the back.
DG-73 is the lowest end model and while features an identical chassis design and is basically a DG-75 without tempered glass.
Much like with a nVidia based video card it is often cost effective to make your purchase somewhere in the middle of the lineup. You'll get all of the performance you need and not pay extra for stuff you're not going to use. The EVGA DG Series follows this concept and leaves it up to the consumer to decide on what features they can live with, or in some instances, without.