EVGA DG-77 Tempered Glass Gaming Case Review
Author:

Dennis Garcia
Published:
Monday, November 27, 2017

Install and Conclusion
One nice thing about being a casemodder is that I am very familiar with cases and while some try to be different on the surface they are still just a metal box deep down. In my case reviews I tend to take a case modders approach and focus on important things like features, cooling and build quality over if a motherboard can fit or how many fans can you run at once.
With the DG-77 I dropped in the popular EVGA X299 Micro just to give a sense of scale and show where certain feature line up. At the front of the case you'll see that the edge of the motherboard is extremely close to cable access area which can make cable routing a little difficult when attempting to bending a 24-pin power connector though the channel to just make a 90 degree turn to the motherboard. SATA cables and front panel connections have no issue.
You'll notice a rather large space next to the motherboard. Traditionally this is where the external drive bays would be located which is now become the de-facto location for DIY watercooling gear including pumps and reservoirs. The irony is that most modders would remove the external drive racks just for this purpose so now they don't have to.
At the top of the case our VRM cooler is edged right up against the top mounted fan and does a great job at hiding the CPU power cable that normally runs in this location. The limited access near the VRM will hinder radiator installation and might impact a decision on using a 140mm fan.
In terms of modifications the case is already setup with a great cooling system and provisions to increase airflow if your particular system needs it. Our review sample came in the rare Alpine White with the only black accents occurring with the cooling fans and top exhaust vents. This opens up a good opportunity for creative painting to bring out even more details inside the case and the option to sand blast some of the paint off the tempered glass for detailed artwork.
Case construction is extremely good with reinforcement where it is needed and venting along the right edges and with the lack of real drive racks you get plenty of space for cables and DIY cooling gear. I'd also like to call out that both EVGA logos on the DG-77 are RGB backlit and hooked to the internal controller. This is a great addition to the case and gives builders the option to switch controllers if the need comes up given their standard four pin plugs.
Conclusion
When the DG-8 Series was released my biggest concern was how big the case was. That of course limited ownership to on a niche number of builders and basically excluded enthusiasts living in apartments and dormitories. The DG-77 addresses this by taking a realistic approach to case design and system building. Most "real" systems feature the basic components including a motherboard, video card, PSU, cooling system and two storage drives. One is usually a fast SSD while the other is a slower storage drive for movies and other assorted data items.
Knowing this there is virtually no need to have anything else inside the case which opens up the opportunity to include many of the hot features that builders do want like RGB LED lighting, vertical mounted GPUs and AIO or DIY watercooling. The tempered glass panels add a level of style not normally found in cases in this price point especially when you get the good glass.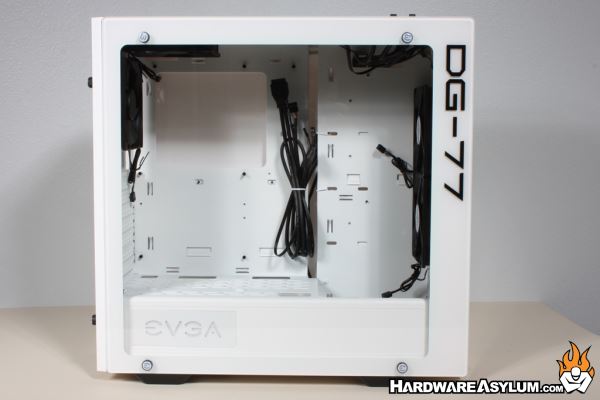 Overall I really liked the EVGA DG-77, it has provisions for good venting, the glass side panels are made from the good stuff and properly mounted on rubber insulated posts. EVGA even included thumbscrews with EVGA buttons for an added bit of style. I was a little upset with the vertical GPU mounting system as it seemed like an afterthought and could have been implemented better. Despite this the mounting works and, for some, that is all which is important.
Good Things
Good Tempered Glass
Rubber Mounted
Personalized Thumb Screws
Vertical GPU Mounting
Clean Design
K-Boost On Select Models
Included RGB Controller
Bad Things
Vertical GPU Mount could have been better
Front RGB LED lights obscured by painted glass
White is difficult to photograph
Hardware Asylum Rating