EVGA DG-77 Tempered Glass Gaming Case Review
Author:

Dennis Garcia
Published:
Monday, November 27, 2017

Case Layout and Features
The EVGA DG-77 is (19 W x 8.25 D x 18.75 H inches) making it almost a perfect square. Tempered glass can be found on three sides of this case including the Front side, the Intake side and Back. The glass itself is the good stuff, very thick with rounded edges and mounted using four rubber mounted thumb screws.
Flipping the case around you can see the I/O Cover facade that not only covers the I/O shield but helps unify the design by pulling the top vent design down to the primary exhaust location. It really isn't much more than a plastic cover designed to dress up the back of the case.
Tempered glass has two major benefits. It is heavy making your case more difficult to move around and is extremely clear allowing you to see everything inside your case. Being that it is glass you can clean it with normal cleaner and break it if you aren't careful. DG-77 takes this one step further and has colored the edges of the panel so to hide the frame of the case while still giving you full viewing of the gear inside.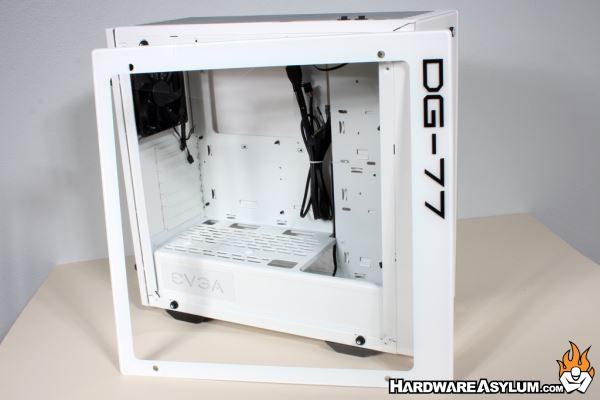 In a bit of a missed opportunity the side and back glass panels are completely painted which is a mixed blessing. On one hand you have the benefit and shine of glass and absolutely no view of the cable mess behind the motherboard tray. And, on the other you have a glass panel that you cannot see through.
This is especially disappointing given what is hiding behind the intake panel of the DG-77.
The primary intake for the DG-77 is comprised of an ornate plastic panel, magnetic fan filter and LED lighted EVGA logo, none of which can be seen with the glass panel installed.
One of the defining features of the DG-77 and DG-76 is the inclusion of K-Boost. This is a software based overclocking utility that works much like a turbo button. On DG-8 K-Boost would also control the fans however that feature has been replaced by a full RGB LED controller which is located in the top panel.
Next to K-Boost you'll find the normal assortment of analog headphone and microphone plugs, USB 3.0 Type-C ports, power and reset buttons.
You will find a total of seven expansion slots on the DG-7 with an option for a vertical mounted GPU on DG-77 models. This feature can be found on other DG-7 cases but you'll have to acquire the vertical GPU mounting bracket separately.
The bottom of the DG-7 is pretty simple. Along the left you'll find a fan filter to protect the PSU intake and eight holes along the right. These sure look like provisions for watercooling pumps as the holes match an opening the PSU cover plate inside the case.