EVGA DG-77 Tempered Glass Gaming Case Review
Author:

Dennis Garcia
Published:
Monday, November 27, 2017

Case Interior and Cooling Layout
EVGA has included a total of four 120mm fans with the DG-77. There are provisions for 140mm fans however the case design appears to favor the 120mm fan. In a way I'm fine with that as the 140mm fans often compromise cooling and make fitment more of a challenge than it needs to be.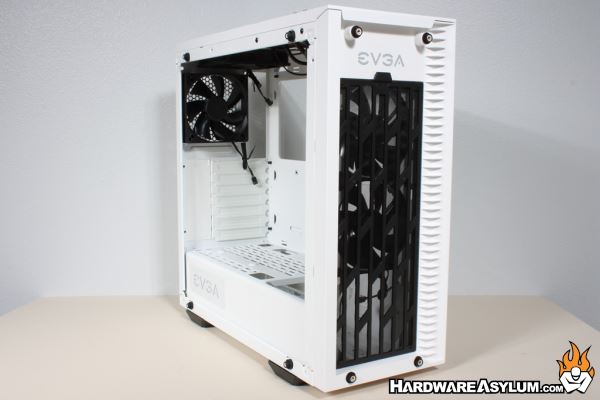 The primary intake on the DG-77 is a series of vents cut into the front panel that run the entire vertical length of the case. Normally these types of vents are rather restrictive however with the EVGA DG-7 there is actually plenty of room especially when you remove the glass cover.
Behind the vent you'll find two fans and provisions for a third. The case supports radiators up to 360mm. From here you can also see how EVGA has designed cable routing with a panel separation between the motherboard and drive rack.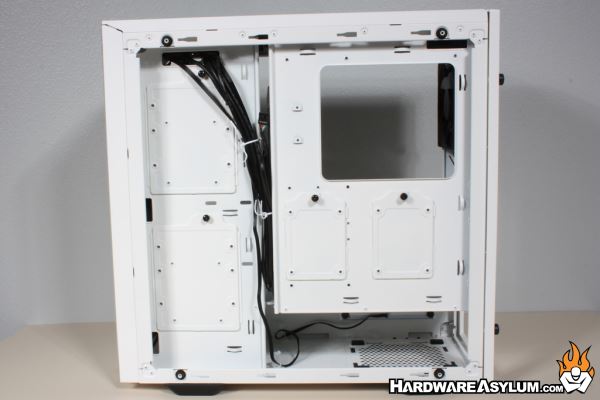 This separated panel serves double duty as it has been moved inside the case just enough to support two 3.5" hard drives each on their own panel style mounting bracket. The bracket supports 3.5" and 2.5" drives along with the two additional drive panels dedicated to 2.5" drives only.
The I/O cover is also removable and reveals the rather lack luster expansion card slots. I say lack luster because they feature screws outside the case and that just seems cheap to me. It works and with the I/O cover they hide pretty well however, for the effort I would much rather see them inside the case and ditch the plastic cover.