HBT+ Turbine 700 Case Review
Author:

Dennis Garcia
Published:
Sunday, September 13, 2015

Case Layout and Features
The HBT+ Turbine is a standard mid-tower chassis measuring in at 19 inches tall with a pretty standard width and depth. External panels are constructed from white plastic with metal grills with plastic trim parts inserted.
Turning the case around you can see the layout of the motherboard in relation to the PSU. The back of this case is very solid when compared to some other high airflow cases missing most of the perforations we normally see. To help with venting the expansion bay covers are constructed from a fine metal mesh to allow air access out of the case.
Speaking of ventilation the Turbine comes with a total of six primary fan locations and every one comes with a removable fan filter. The most surprising is the magnetic filter for the rear exhaust, or intake if you happen to reverse the fan.
The bottom of the Turbine 700 is also very solid with only a vent available for the power supply. Normally we might see a fan location or creative venting but instead you will find another removable fan filter and a few screws.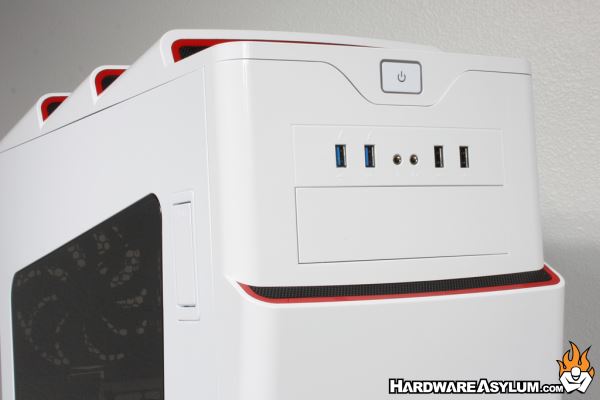 As was mentioned before the Turbine comes with a single external 5.25" drive bay that is well disguised across the front panel. Above the drive bay you will find two USB 3.0 ports, two USB 2.0 ports and analog connections for headphones and mic. A single power button is located at the top of the case and no reset button?
Not really an issue, just different.