HBT+ Turbine 700 Case Review
Author:

Dennis Garcia
Published:
Sunday, September 13, 2015

Case Interior and Storage
Most of the time removing the side panels of a case will expose everything inside. While that is true with the Turbine there is a slight exception. The HBT+ Turbine is what I like to call a two sided case that physically separates the case sections based on what side you are looking at. From the front you have access to the motherboard location including video cards and cooling.
From the back you have access to cable management and all of the storage devices. At the top is a single tool less retainer for the 5.25" drive bay followed by two 3.5/2.5" combo drive bays. At the bottom is anther combo drive rack next to a dedicated 2.5" drive rack that is removable.
All of the 3.5" drive trays are combo meaning you can install a traditional 3.5" rotational or 2.5" SSD. These trays slide in and lock using a couple plastic clips. Unlike some of the drive trays we have seen these are fairly sturdy due to the thickness of the plastic.
The lower storage racks are rather unique and almost opportunistic given that the three drive rack is solid while the 2.5" rack is plastic and removable to allow for longer PSUs and cable access.
A nice stylistic addition is the large side window that has been shaded quite dark. Typically cases like this use a clear side window or one with a light tint and while these look nice I've always liked the darker shades as they tend to look better with interior accent lighting and conceal better when the lights are off.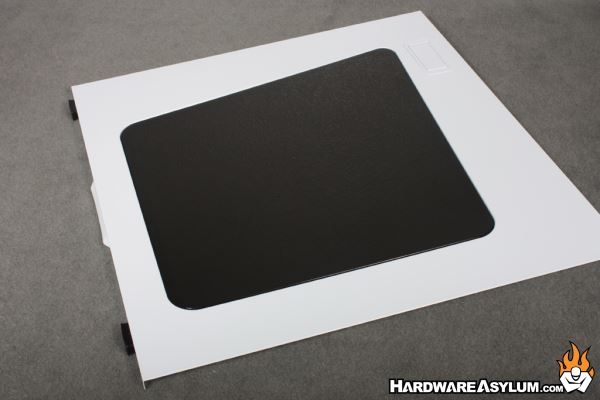 Personally when I do mods one of the first things I do is tint the side windows with 20% automotive window tint and I'm glad to see a company doing this from the factory.
While on the subject of the side panel it should be noted that they are not using traditional screws to hold the panel in place. Instead you get two slide locks that work surprisingly well.