be quiet! Shadow Base 800 DX Review
Author:

Darren McCain
Published:
Friday, October 6, 2023

Case Layout and Features Continued
The interior of the Shadow Base 800 DX is a pretty traditional cageless design that has served the Base 800 series for several generations.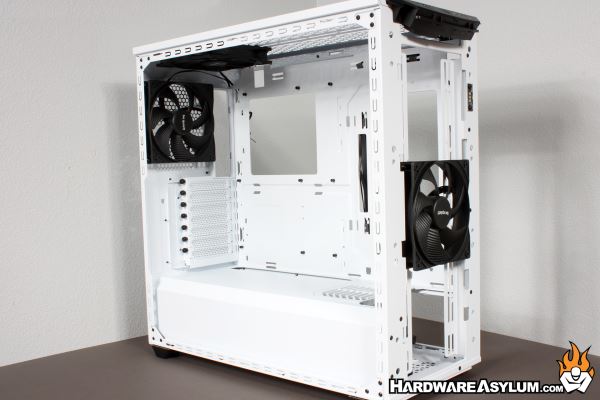 The interior is divided into two separate compartments. Standoffs are preinstalled and all the included fasteners are black.
Cooling is provided by 3 Pure Wings 3 140mm PWM fans pre-installed in the rear and top exhaust locations and in the center of the front panel. These German engineered fans are much better than the pack along fans most manufacturers. Each 7-blade fan is engineered to operate at 21.9dB(A) even while at max power.
The motherboard tray has a large window for access to the back of the board. This window is covered by a removable drive tray. Unlike most case designs, there are no rubber grommeted slots for cables. Instead, there is a removable cable bar to hide the clutter.
This color matched bar is be quiet! branded and looks pretty sharp when installed. Using a cover like this allows for larger cable slots and hiding all of your unsightly cables from prying eyes.
be quiet! routes cables with a series of Velcro fasteners placed along the common cable routes. Additional cable ties are included to help with any other cable management needs.
Included cable leads support the top USB cables ARGB and the usual motherboard leads.
Both of the read drive mounts are removable and a third drive cage is included in the accessory box bringing your total drive support to 7 drives total.
A removable vented bracket at the front of the basement allows for taller components like a good reservoir to be installed behind the front radiator location.