Be Quiet Silent Base 800 Case Review
Author:

Darren McCain
Published:
Friday, June 26, 2015

Introduction
Be quiet! has been a favorite brand around the labs for some time. Their focus on premium case cooling has produced some of the best heat sinks and fans on the market today. Now be quiet! is branching out into case design with their Silent Base 800 case. The Silent Base 800 is designed to offer the quiet operation we have come to expect with enthusiast performance.
The Silent Base 800 will be the first in a planned series of cases from be quiet! and has been in development for some time. Let's face it. With a name that already says "quiet" there is more of an expectation than most cases face. Fortunately the Silent Base 800 embraces the legacy in an attractive Mid-case package.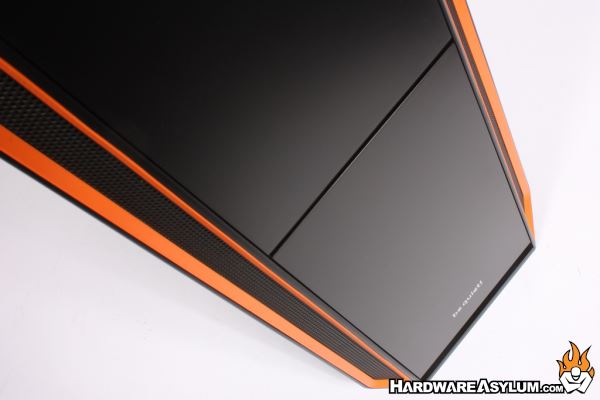 The Silent Base 800 currently comes in one of three color combinations: All Black, black with silver accents and the black with orange accents we have today. I have to admit we do have a bit of a bias for the black and orange around here but it looks sharp. One thing that isn't as apparent in pictures is the overall size of the Base 800. It's a wider mid-tower with a 9.31 kg (20.5 lbs.) footprint. There is good reason for this but it does make it so you should watch out for shipping charges!
Let's take a closer look at the specs.
Highlights
Unique Performance and usability
Innovative construction for controlled airflow and excellent cooling performance
Unique concept for well-known be quiet! silence
Three pre-installed be quiet! Pure Wings 2 fans
Generous space and flexibility supports all manner of high-end hardware
Easy tool-free fitting and professional cable management
Specifications
Model: Silent Base 800 Orange
Form factor: ATX
Motherboard Compatibility: ATX, Micro-ATX, mini-ITX
Case Size: Incl. Stands: 495mm x 266mm x 559mm / Excl. Stands: 495mm x 230mm x 542mm
Color Options: Orange, Black, Silver
Weight: 9.31 kg
Top Ports: USB 2.02, USB 3.02, HD Audio I/O
Expansion slots: 7
Material: Covers: ABS Plastic / Side Panel: 0.7mm Steel / Front Panel: ABS Plastic / Stands: Nylon, Fiber
Drive Bay Capacity: 5.25 x3 / 3.5 x7 / 2.5 x4
HDD Cage Specifications: HDD Cages total: 2 (2x removable, 1x relocatable)
Pre-installed fans (3 pin): / Front: 2 x be quiet! Pure Wing 2 (140 x 140 x 25mm, 1,000 RPM) / Rear: 1 x be quiet! Pure Wings 2 (120 x 120 x 25mm, 1,500 RPM) / Noise level @ 12V: (dB(A))Front: 18.8, Rear: 19.2 / Air flow @ 12V: (cfm / m3/h)Front: 61.2, Rear: 51.4 / Air pressure @ 12V: (mm H2O)Front: 0.76, Rear: 1.25 / Lifespan: (h / 25°C)up to 80,000
Optional fan installation: (7 locations) / Top: 2 x 140/120mm / Bottom: 1 x 140/120mm / Side Panel: 1 x 120mm
Optional Water Cooling System (Radiator in mm): / Front: 120/140, Rear: 120, Top: 120/140/240/280
CPU Cooler Dimensions (mm)up to 170
Airflow Channels: Top, Bottom
PSU compatibility: Maximum dimension incl. Bottom Fan: 160mm / Maximum dimension excl. Bottom Fan: 290mm
Graphic cards: Standard: 290mm / Without Middle HDD Cage: 400mm
Insulation and Damping Front Panel Insulation Mats / Side Panel Insulation Mats / Anti-vibration Decoupled HDD Anti-vibration Decoupled Fan / Anti-vibration Decoupled PSU
Removable Dust Filters: Front, Bottom, Side Panel x2
Service Warranty: 3 years / International hotline / free of charge / DE, FR
Be quiet! has been manufacturing computer peripherals for over 10 years and is considered a premium manufacturer of both power supplies and PC cooling solutions. As the number 1 power supplier in Germany, be quiet! is constantly voted the number 1 power supply manufacturer and top PC CPU cooler brand by top publications and trade shows. Here at Hardware Asylum, be quiet! has been our top rated heat sink manufacturer for several years.
Modding is still a big part of building a computer either it be in component selection or pimping up the chassis the personalization of your computer is a large part of ownership. A purpose built mid-tower design like the Silent Base 800 may not be the first choice for modding but the opportunity for customization should not be ignored. That isn't to say you have to modify every case you buy but, every chassis should offer those opportunities and that his how we do our reviews.