SilverStone Precision PS14-E Evolution Case Review
Author:

Dennis Garcia
Published:
Monday, November 04, 2019

Introduction
In the mix of computer cases some are designed to stand out. They often have "all the features" and too many accessories to name. As you can imagine these cases are designed for a single purpose and you often pay for the privilege. Not everyone needs a case like that and honestly there are very few system builders may want a case like that but cannot due to budget constraints. A more realistic option is a case that offers many of the modern design elements, has a pleasing design and a price tag that can easily be overlooked on the balance sheet.
In this review we will be looking at the SilverStone Precision PS14-E or Evolution. The Precision series is one designed for the budget minded builder that enjoys the SilverStone brand but, doesn't need all the fancy bells and whistles. I have found that many of the Precision cases are based on a design from another series. For instance PS12 borrows design elements from the TJ08-E and KL06 while the PS14-E is an upgrade from the PS13 and PS14 while also reminding me a lot of the KL05.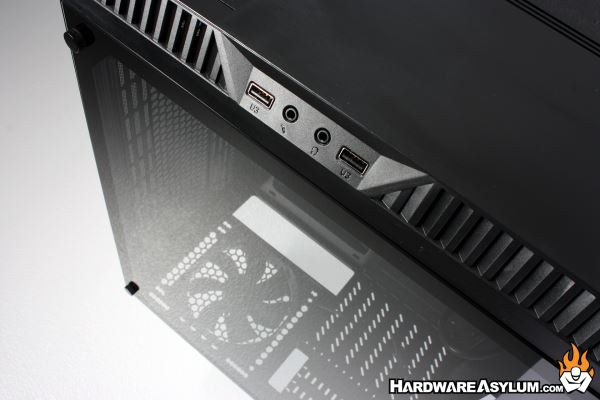 Of course some of my observations are simply subjective however, there is something to be said for keeping with what works.
The Precision PS14-E is a case that has checked all the boxes. It features support for high-end water and air cooling, comes with a darkened tempered glass side panel and features a number of things that are starting to be lost in the hardware world.
Specifications
Model No. SST-PS14B-EG
Material Plastic front panel, steel body
Motherboard SSI-CEB, ATX, Micro-ATX
Drive bay External 5.25" x 1 / Internal 3.5" x 2, 2.5" x 2
Cooling system
Front 120mm fan slot x 3 (support 140mm fan x 2)
Rear 120mm fan x 1 (support 140mm fan x 1)
Top 120mm fan slot x 2 (support 140mm fan x 2)
Radiator support
Front 120mm / 140mm / 240mm / 280mm / 360mm x 1 (5.25" drive bay unavailable*)
Rear 120mm / 140mm x 1
Top 120mm / 240mm x 1 (5.25" drive bay unavailable*)
Expansion slot 7
Front I/O port USB 3.0 Type-A x 2 / Audio x 1 / MIC x 1
Power supply Standard PS2(ATX)
Expansion card Support up to 14" (357mm), width restriction – 7.2" (183mm)
Limitation of CPU cooler 177mm
Limitation of PSU 190~210mm
Net weight 5.7kg
Dimension 210mm (W) x 469mm (H) x 438mm (D), 43.1 Liters / 8.27" (W) x 18.46" (H) x 17.24" (D), 43.1 Liters