SilverStone Precision PS14-E Evolution Case Review
Author:

Dennis Garcia
Published:
Monday, November 04, 2019

Conclusion
In this review we looked at the SilverStone Precision PS14-Evolution. This is a second generation case for the PS14 aimed at giving the classic design a few refinements. I find this case to be designed mostly for the budget minded builder who enjoys the SilverStone brand but, doesn't need all the fancy bells and whistles. You still get all of the modern features and a few luxuries as this mostly is intended to help the buyer "check the boxes" when picking a case.
Overall the design of the Precision PS14-E is nice and simple. The front bezel is understated with only the functional features highlighted such as the lighted power button, side mounted USB and audio connections and single external 5.25" drive bay. You'll get a shaded tempered glass side panel, basement panel covering the 3.5" drive rack, power supply and the bulk of the cabling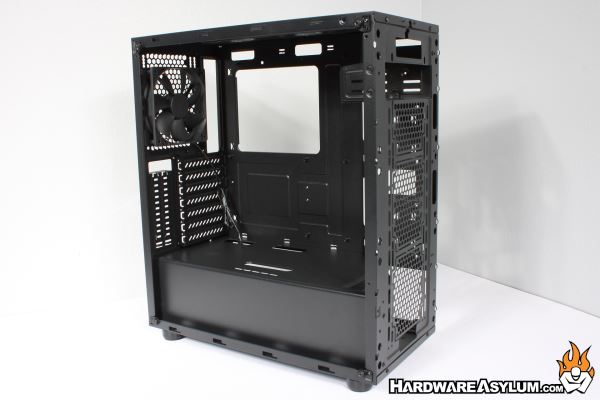 Inside the case is very functional. You'll only get a single cooling fan and the expansion slots need to be knocked out to be used. Given that most budget builders are not tweaking their builds on a daily basis I don't see this as being a problem at all. In fact I'm surprised that most companies aren't on that train.
Cooling is handled by a multitude of options including support for aircooling and both 120mm and 140mm fans. Radiators up to 280mm are supported with an option for 360mm if you remove the 5.25" drive tray.
Speaking of, the 5.25" drive tray is more of a "tab" giving you only two screw positions to secure your drive. Granted this is more than adequate but, just feels wrong given that the drives are designed to be secured both front and back. Ultimately, this effort represents SilverStone putting an effort into offering a 5.25" drive option but is fully expecting that nobody will be using it.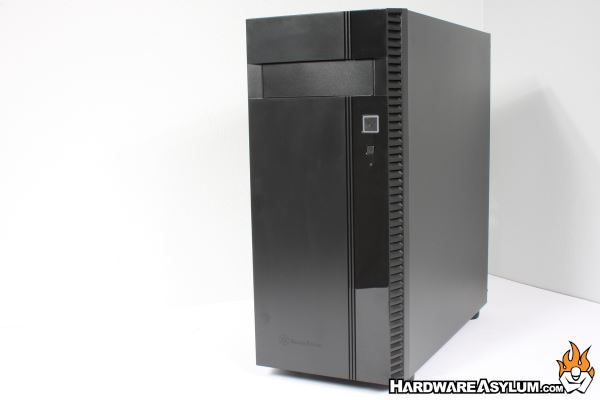 There is actually one aspect included with the PS14-E that I have been avoiding and that is the option to do a vertical GPU. I have seen many different implementations of a vertical GPU from some properly designed and supported to others that leverage the basement panel. The SilverStone option is one of the later and consists of mounting the card to the back of the case, running a ribbon cable and supporting the card with a plastic bracket. This bracket is secured to the case with a single screw and just cradles the card. Personally I would have preferred a more mechanical connection but like the 5.25" drive bay I suspect it will get very little use.
The SilverStone Precision PS14-E is a very nice case with some great features for the price. Honestly I don't expect too many hardware enthusiasts to be looking at this case for their next build however I do see it as being a good candidate for a healthy casemod. The tempered glass used on this case is quite good and the amount of metal on the motherboard tray and basement panel is a great canvas for a painting mod. There are plenty of options for enhanced cooling and the issues with panels rattling can be eliminated with a few key panel replacements and a little sound deadening.
Good Things
Inexpensive Design
Tempered Glass Side Panel
Watercooling Support
Plenty of Fan Locations
Includes External 5.25
Bad Things
Low effort given on 5.25 bay
Thin material used
No I/O slot covers