SilverStone Precision PS14-E Evolution Case Review
Author:

Dennis Garcia
Published:
Monday, November 04, 2019

Case Layout and Features
I had mentioned before how the PS14-E checked all the boxes. That statement isn't so much a call out to say this case has it all but rather that it comes with all the features that the modern consumer is looking for. From the front of the case you can clearly see the tempered glass side panel. This is a full coverage panel that fully covers the side of the case leaving nothing to be obscured.
Turning the case around you can see a rather boring and flat side panel along with a number of expansion slots. The case supports full sized ATX motherboards with the power supply located at the bottom of the case, fan at the top.
A closer look at the expansion slots shows that the PS14-E comes with the standard set of 7 expansion slots along with two to the side for a vertical GPU mounting, or options for a USB breakout panel, sound card or anything else that might require an expansion slot but not direct motherboard access.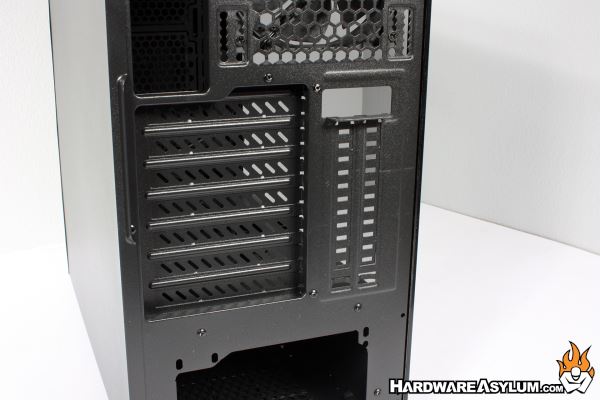 I would like to call out that this case doesn't come with actual slot covers. In fact, SilverStone went old school with this case leaving the expansion slot covers attached to the metal after the stamping process which requires the end-user to remove only the ones they need.
This is a very old school move that I haven't seen in cases for years. Ultimately doesn't matter much. Sure the user will have to knock one of these out to fit their video card and as it turns out a little extra effort during the build process that helps drop the price on the case.
Cooling is handled using a variety of fan mounting locations including two 120 or 140mm fans at the top which are covered by this magnetic fan filter. The mounting location offers a number of different mounting locations with three rows of slotted screw holes supporting fans and radiator combinations.
Of course one of the most notable features is the external 5.25" drive bay. Believe it or not but some folks still prefer to have an optical drive handy and look for cases that still have them. The PS14-E offers this slot with cautious optimism given that you can physically install the drive but are only given a couple screw holes to secure it.