SilverStone Redline RL06 Case Review
Author:

Dennis Garcia
Published:
Wednesday, March 14, 2018

Introduction
The SilverStone Redline Series is one dedicated to offering elegant cases at an affordable price. This can be accomplished in a number of ways from using less material to simply including less stuff. I'm a fan of the "including less" approach because it makes the most sense. For instance, you can still offer solid construction, great styling but get rid of the extra eight hard drive trays because normal system builders don't need them. Hardware enthusiasts often remove them anyway to make room for watercooling gear and let's face it, this is 2018 if you are still holding on to three rotational drives from the turn of the century you need to consolidate.
In this review I'll be looking at the Silverstone Redline RL06. This case is part of the Redline Series and designed as a competitively priced chassis for the mainstream enthusiast market and includes features you wouldn't normally see in that segment.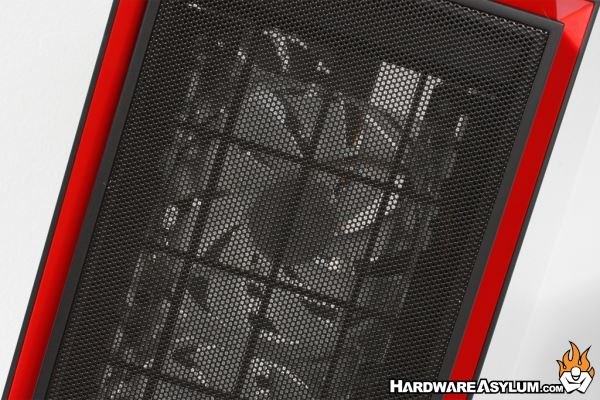 Specifications
Model No. SST-RL06BR-GP (black with red trim + LED fans + tempered glass window)
Material Plastic panel, steel body, tempered glass side panel (G & GP versions only)*
Motherboard ATX (up to 12" x 10.2", Micro-ATX
Drive Bay
3.5" x 3 (compatible with 2.5"), 2.5" x 2
Cooling System
Front 120mm LED fan x 3 (PRO & GP versions only) or 140mm fan slot x 2
Rear 120mm fan x 1
Top 120 / 140mm fan slot x 2
Radiator support
Front 120mm / 140mm / 240mm x 1
Rear 120mm x 1
Top 120mm / 240mm x 1 (< 30mm thick)
Expansion Slot 7
Front I/O Port USB 2.0 x 2 / USB 3.0 x 2 / Audio x 1 / MIC x 1
Power Supply Standard PS2(ATX)
Expansion Card Support graphics card up to 13.7", width restriction - 6"
Limitation of CPU cooler 158mm
Limitation of PSU 200mm
Net Weight 7.17kg
Dimension 200mm (W) x 477mm (H) x 455mm (D), 43.4 Liters
The Redline RL06 has several things going for it. For starters it is an inexpensive case making it attractive to first time system builders and system integrators. The case is also a good platform for some basic computer mods and this version comes with a tempered glass side panel and radiator support.