Silverstone Raven RVX01 Case Review
Author:

Dennis Garcia
Published:
Friday, April 22, 2016

Introduction
When Silverstone released the Raven 5 they set out to accomplish two things. To bring back the 90 degree rotated motherboard layout that helped to define the Raven series and to further shrink the footprint of the chassis. They succeeded with both and while the RV05 was covered in decorative plastic panels it was an extremely compact with the same great cooling we have come to expect from the Silverstone Raven Series.
In this review I will be looking at a case from the new Raven X subcategory the Silverstone Raven RVX01. This case retains the essence of what made the original Raven series appealing such as signature aggressive styling and 90 degree rotated layout, but also cater to enthusiasts looking for more exciting designs in an entry-level price point.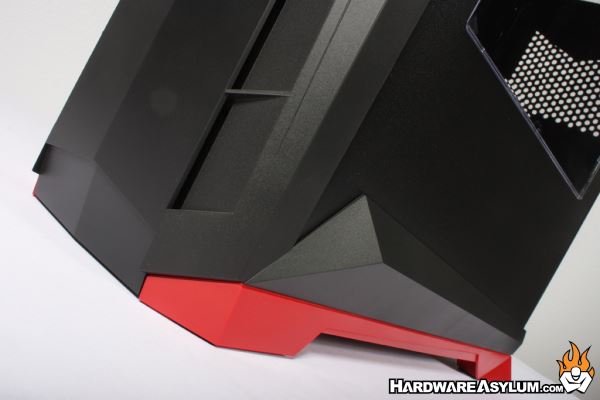 When looking at this case in photo it appears like any standard desktop tower with a few color matched components at the top and bottom of the case. The version in this review features the red on black color scheme but is also available in blue on black and green on black to match just about every hardware manufacturer on the market.
Eventually there may be a white version of the RVX01 with similar color patterns.
Specifications
Model No: SST-RVX01BR (black with red trim) / SST-RVX01BR-W (black with red trim + window) / SST-RVX01BA-W (black with blue trim + window) / SST-RVX01BV-W (black with green trim + window)
Material: Plastic outer shell, steel body
Motherboard: ATX (up to 12" x 11"), Micro-ATX
Drive Bay
External: None
Internal: 2.5"x 4 or 3.5"x 4
Cooling System
Front: 120mm fan slot x 1
Top: 120mm fan slot x 1
Bottom: 120mm Air Penetrator x 3, 1200±10% rpm, 19.7dBA
Expansion Slot: 7
Front I/O Port: USB 3.0 x 2 / audio x 1 / MIC x 1
Power Supply: Optional PS2(ATX)|
Expansion Card: Compatible up to 13.7", width restriction up to ~5.91" depending on installed drives
Limitation of CPU cooler: 162mm or 159mm (window)
Dimension: 215mm (W) x 485mm (H) x 500mm (D) , 52.1 liters
Similar to past Raven designs the RVX01 has no external drive bays which have become a growing trend in modern chassis designs. It does limit your expansion options but also frees up a lot of space allowing designers to make cases smaller and less expensive.