Thermaltake Chaser A31 Thunder Case Review
Author:

Darren McCain
Published:
Tuesday, May 28, 2013

Introduction
We first laid eyes on the new Thermaltake Chaser A31 Thunder back at CES and boy did it make a good first impression. Combining the front bay looks we have come to love in the Stacker cases with a head turning black and blue style that looks even better in person. Now that we have our hands on this budget friendly gaming case, we can see if the A31 performs as good as it looks!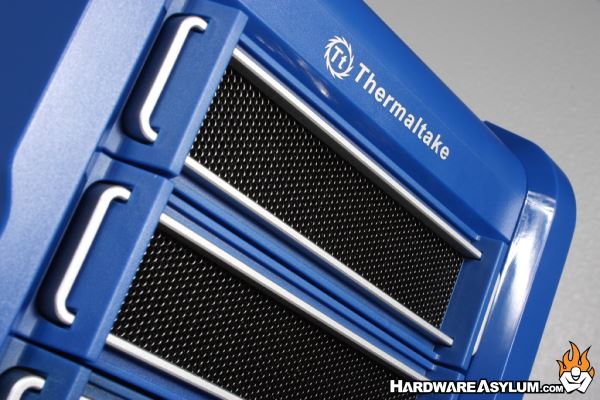 The Chaser A31 Thunder, or A31 for short, is the latest in the TT Chaser series and firmly targeted at the eSports crowd. The A31 is designed to bring a combination of cooling, performance and expandability normally found in the full size chassis to this mid tower design.

Let's take a closer look at the specifications.
Specifications
Case Type Mid Tower
Dimension (H x W x D) 501 x 212 x 495mm (19.7 x 8.4 x 19.5 inch)
Net Weight 6.5 kg/14.4 lb
Side Panel Transparent Window
Color Exterior & Interior : Black & Blue
Material SECC
Cooling System Front (intake) : 120 x 120 x 25 mm Turbo fan x 1 (1000rpm, 16dBA) / 120 x 120 x 25 mm (optional)
Rear (exhaust) : 120 x 120 x 25 mm Blue LED fan (1000rpm,16dBA)
Top (exhaust) : (optional) 120 x 120 x 25 mm fan x 2 or 140 x 140 x 25 mm fan x 2
Bottom (Intake) : (optional) 120 x 120 x 25 mm fan
Cooling System - Accessible : 3 x 5.25'' , 1 x 3.5'' (Converted from one 5.25" drive bay) - Hidden : 6 x 3.5'' or 2.5''
Motherboards 7
I/O Ports USB 3.0 x 2, HD Audio x 1
PSU Standard PS2 PSU (optional)
LCS Upgradable Supports 1/2", 3/8", 1/4" water tube
I have always been a fan of colored cases and love to see what everyone is sporting when its LAN party time. The A31 does not disappoint with the blue accented by ample black venting and just enough silver to make it look like a case costing twice as much. The interior is completely finished in black as well for a clean windowed look. In addition to the attractive blue finish you see here, the A31 comes in black, red, blue and the Snow Edition (white).

Modding is still a big part of building a computer either it be in component selection or pimping up the chassis the personalization of your computer is a large part of ownership. That isn't to say you have to modify every case you buy but, every chassis should offer those opportunities and that his how we do our reviews.