Thermaltake CTE C750TG ARGB Case Review
Author:

Dennis Garcia
Published:
Thursday, June 29, 2023

Introduction
If you look at the short history of the computer chassis you will see a great number of trends which all have very strong roots from the ATX form factor specifications. These rules determined how an ATX motherboard would be installed, standardized the location of mounting holes and how components were to be placed. This translated into a sudo standard for how a PC computer chassis would be designed which has perpetuated since the very beginning.
Of course, rules are ment to be broken and as case makers attempt to push the boundaries to create new and exciting designs, we are left with a good number of success stories and some, not so successful footnotes.
A popular design that has worked extremely well is the 90-degree motherboard rotation initially released by Silverstone in 2008 for their Raven series. By simply rotating the motherboard we open up the internal components to a natural cooling method where heated air can freely exit out the top of the chassis without encountering flat surfaces that create isolated hot spots. The design was extremely successful and has been marked as a pinnacle in air cooling design.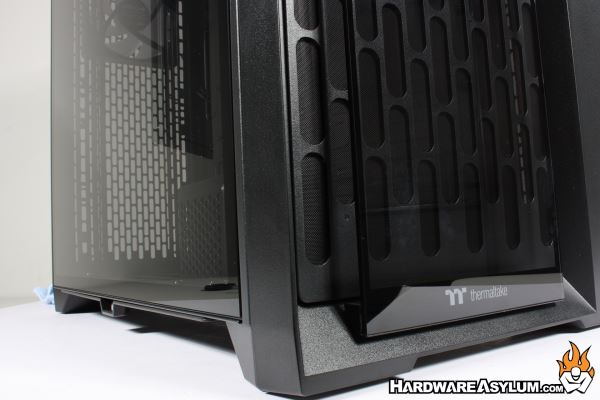 What is most interesting is that by rotating the motherboard you also change where cables connect and the orientation of everything that interfaces with the motherboard. For instance, video and keyboard cables now connect at the top of the case and front mounted external drives often require an extra log cable.
What changed?
With the sudden disappearance of external storage drives and the removal of drive bay provisions we are left with an entire section of the computer chassis that is now obsolete. What was once considered the front of the PC chassis is now empty space and so far, NO company has figured out what to do with it.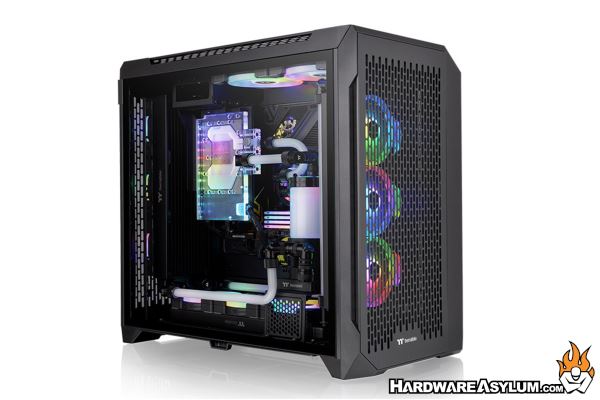 In this review we will be looking at a new chassis specification from Thermaltake called CTE C750 TG ARGB. The new form factor stands for Centralized Thermal Efficiency and is, what they consider to be, a completely new way to design a computer chassis.
Specifications
P/N: CA-1X6-00F1WN-01
Series: CTE
Case Type: Full Tower
Dimension (H x W x D): 565.2 x 327 x 599.2 mm / (22.25 x 12.87 x 23.59 inch)
Net Weight: 16.7 kg / 36.82 lbs.
Side Panel: 4mm Tempered Glass x 2
Color: Black
Material: SPCC / ABS
Cooling System
Front(intake): 140 x 140 x 25 mm CT140 ARGB fan (1500rpm, 30.5 dBA) x 1
Top(exhaust): 140 x 140 x 25 mm CT140 ARGB fan (1500rpm, 30.5 dBA) x 1
Rear(intake): 140 x 140 x 25 mm CT140 ARGB fan (1500rpm, 30.5 dBA) x 1
Expansion Slots: 7
Motherboards:
7" x 6.7" (Mini ITX)
6" x 9.6" (Micro ATX),
12" x 9.6" (ATX)
12" x 13" (E-ATX)
I/O Port:
USB 3.2 (Gen 2)
Type-C x 1,
USB 3.0 x 4,
HD Audio x 1
PSU: Standard PS2 PSU (optional)
Fan Support
Front: 3 x 120mm, 2 x 120mm, 1 x 120mm, 3 x 140mm, 2 x 140mm, 1 x 140mm, 2 x 200mm, 1 x 200mm
Top: 2 x 120mm, 1 x 120mm, 2 x 140mm, 1 x 140mm
Right (M/B Side): 3 x 120mm, 2 x 120mm, 1 x 120mm, 3 x 140mm, 2 x 140mm, 1 x 140mm
Rear: 3 x 120mm, 2 x 120mm, 1 x 120mm, 3 x 140mm, 2 x 140mm, 1 x 140mm, 2 x 200mm, 1 x 200mm
Bottom: 3 x 120mm, 2 x 120mm, 1 x 120mm, 3 x 140mm, 2 x 140mm, 1 x 140mm,
Radiator Support
Front: 1 x 360mm, 1 x 240mm, 1 x 120mm, 1 x 420mm(AIO only), 1 x 280mm, 1 x 140mm
Top: 1 x 240mm, 1 x 120mm, 1 x 140mm
Right (M/B Side): 1 x 360mm, 1 x 240mm, 1 x 120mm, 1 x 420mm(AIO only), 1 x 280mm, 1 x 140mm
Rear: 1 x 360mm, 1 x 240mm, 1 x 120mm, 1 x 420mm(AIO only), 1 x 280mm, 1 x 140mm
Bottom: 1 x 360mm, 1 x 240mm, 1 x 120mm, 1 x 280mm, 1 x 140mm
Clearance:
CPU cooler max height: 190mm
VGA max length: 370mm (With radiator) / 420mm (Without radiator)
PSU max length: 220mm