Thermaltake Overseer RX-1 Case Review
Author:

Dennis Garcia
Published:
Friday, February 17, 2012

Introduction
Thermaltake has been building a reputation on their distinctive cases since 1992. Often polarizing in their design, the TT brand has garnered many awards for their performance as well. Recently I had the chance to review the Thermaltake Chaser MK-1 and found it to be excellent if a bit big for my taste. This time out I am looking at the smaller but still full sized Overseer RX-1 case.

The Overseer represents the VN700 Series and the influence of Thermaltake's popular eSPORT line is clearly visible in the design. The all black SECC steel case is accented with a touch of blue that matches the blue accent lighting extremely well. Positioned between the Chaser and the mid-tower Commander Series, the size and price point are competitive with some of the most popular case designs on the market today.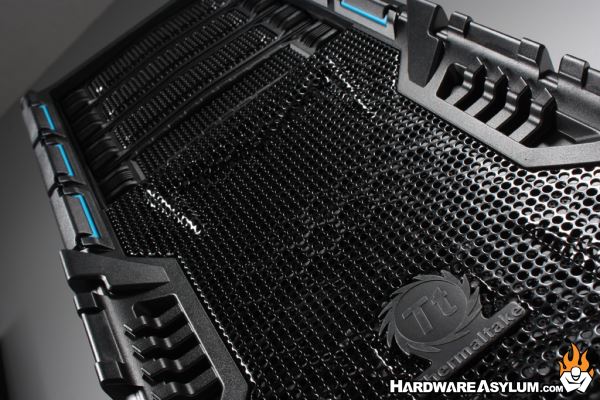 The size of the case is accented by the larger ABS plastic front and top panels both of which extend the aggressive look of the case by about 2 inches. As a point of reference I am currently using a NZXT Tempest EVO and a CM Storm Enforcer as my personal chassis of choice, both are clearly mid-sized. The Overseer dwarfs both of these decisively at 21.1 x 8.7 x 22.8 inch (535 x 220 x 580 mm) and sitting on four 1.5 inch feet.
Specifications
Case Type Full Tower
Material SECC
Front Bezel Material plastic and high air flow mesh
Color Black
Side Panel Solid with Tranparent Window
Motherboard Support (Micro ATX)/(ATX)/(Extend ATX)
Drive Bay 5.25" x 3 / 3.5" x 5
Expansion Slots 8
Front I/O Ports USB 3.0 x 2 / USB 2.0 x 2 / eSATA connector x 1 / Mic & Speaker
Cooling System
- Front 200 x 200 x 30 mm Blue LED (600~800 RPM, 12~14 dBA)
- Rear 120 x 120 x 25 mm TurboFan, 1000rpm, 16dBA
- Top 200 x 200 x 30 mm Blue LED fan x 1 (600~800rpm, 13~15dBA)
- Top 200 x 200 x 30 mm (optional)
- Bottom 120 x 120 x 25 mm x 1 (optional)
- Side 200 x 200 x 30 mm x 1 (optional)

As always, we like to look at a chassis from a casemodders perspective which will look beyond the basic things like if a motherboard will fit and concentrate on things such as overall construction, cooling options, and style. The rest you should be able to glean from the spec sheet or photos in this review.